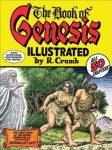 We're not sure what's more amazing--that an illustrated book of the Bible is in the Top 20 graphic novels in bookstores, or that a graphic novel by Robert Crumb is in the Top 20 in bookstores. Either way, the new The Book of Genesis adaptation illustrated by Robert Crumb debuted at #9 in the Top 20 list of adult graphic novels in bookstores for September, according to the report from Nielsen BookScan. It only began to hit stores (and was shipped by Amazon) in the last week before the end of the month, so it will be October before it's widely distributed and generally available.


BookScan Top 20 Graphic Novels in September 2009

Rank

Title

Author

Publisher

1

BLEACH VOL. 28

TITE KUBO

VIZ MEDIA

2

WATCHMEN TP

ALAN MOORE

DC COMICS

3

FULLMETAL ALCHEMIST VOL. 20

ARAKAWA HIROMU

VIZ MEDIA

4

NARUTO VOL. 45

MASASHI KISHIMOTO

VIZ MEDIA

5

VAMPIRE KNIGHT VOL. 7

MATSURI HINO

VIZ MEDIA

6

MERCY THOMPSON: HOMECOMING HC

PATRICIA BRIGGS

DEL REY

7

YOTSUBA&! VOL. 6

KIYOHIKO AZUMA

YEN PRESS

8

FRUITS BASKET VOL. 23

NATSUKI TAKAYA

TOKYOPOP

9

THE BOOK OF GENESIS ILLUS. BY R. CRUMB HC

ROBERT CRUMB

W. W. NORTON

10

THE WALKING DEAD VOL. 10 TP

ROBERT KIRKMAN

IMAGE

11

BATMAN: ARKHAM ASYLUM: 15TH ANN. ED. HC

GRANT MORRISON

DC COMICS

12

FABLES VOL. 12 TP

BILL WILLINGHAM

VERTIGO

13

BATMAN: HUSH TP

JEPH LOEB

DC COMICS

14

CHIBI VAMPIRE VOL. 14

YUNA KAGESAKI

TOKYOPOP

15

BLACK BIRD VOL. 1

KANOKO SAKURAKOJI

VIZ MEDIA

16

BATMAN: THE KILLING JOKE SPEC. ED. HC

ALAN MOORE

DC COMICS

17

BATMAN: WHATEVER HAPPENED TO THE CAPED CRUSADER? DLX ED HC

NEIL GAIMAN

DC COMICS

18

ROSARIO+VAMPIRE VOL. 8

AKIHISA IKEDA

VIZ MEDIA

19

V FOR VENDETTA TP

ALAN MOORE

VERTIGO

20

NARUTO VOL. 46

MASASHI KISHIMOTO

VIZ MEDIA
The Book of Genesis has already gotten a lot of mainstream attention, including a preview in the New Yorker (see "Crumb's Genesis Previewed"). In a review for ICv2 Insider's Guide #69, shipping soon, our reviewer gave it a very rare five out of five stars, surely only one of many raves for this incredible work.
The new volume of Bleach took the #1 slot, the second time in three months the property has taken the #1 slot. It was one of seven Viz titles and ten manga titles in the Top 20. Black Bird Vol. 1 held in the Top 20 for the second month, a strong new series launching from Viz.
Yotsuba&! Vol. 6, the first volume published by Yen Press after it acquired it when ADV got out of the manga business (see "Yen Acquires Yotsuba&!), debuted at #7.
Batman: Arkham Asylum broke into the Top 20 at #11, surely propelled by the release of the Arkham Asylum videogame in late August.
Watchmen held at #2, with a late surge of attention to the property related to the DVD release keeping it up near the top of the chart.
The latest Naruto Vol. 46, debuted at #20 after releasing in the book channel last week. It was not shipped to comic stores until this week
The rankings, provided by Nielsen BookScan, track the bestselling U.S. graphic novels in major book chains, mass merchants, online retailers, and some independent retailers using POS data from August 30th to October 4th. Titles racked in the Kids or YA sections do not appear in this list.
For charts from other months, see the "BookScan Top 20 GNs Index."