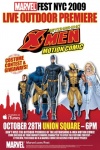 Marvel will host MarvelFest NYC on October 28th, an indoor-outdoor event to launch its Astonishing X-Men Motion Comic. The actual premiere of the motion comic will be projected three stories high in Union Square in New York City.
Events begin at 4 p.m. on the 28th at Forbidden Planet, where Neal Adams, Chris Claremont, and Dan Slott appear to sign autographs.
The Union Square portion of the events include giveaways, an opportunity for fans to photograph themselves in a Marvel cover, sketches from Marvel creators, and a MarvelFest Costume Contest with limited edition figures and comics as participation prizes for entrants.
The Marvel event, while certainly on a much smaller scale, reminds us of Disney's D23 event (see "Disney Plans Convention") in that the owner of the content is hosting its own event as a way to promote its properties and connect directly with fans.