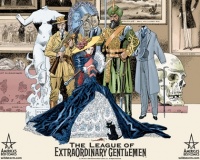 Two library employees in Nicholasville, Kentucky say they were fired for refusing to allow a graphic novel in the League of Extraordinary Gentlemen series to circulate to an 11-year-old, according to reports by local TV stations WBKO and WTVQ. Library employees Sharon Cook and Beth Bovaire took the LoEG volume off the girl's hold list. Cook called the book "porn" and "pornography" in her interviews, and said that it wasn't appropriate for a child.
The Jessamine County Library Director told the stations that it was against policy to talk about employee terminations, but directed the stations to the library's policies, which state that the responsibility for a child's reading lies with the child's parents, and not with the library.
"Residents in Jessamine county do not realize that these books that are so graphic are available in the library let alone to their children," Bovaire told the stations.