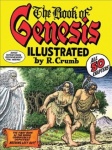 After a strong debut (see "Genesis Debuts at #9"), Robert Crumb's The Book of Genesis moved up the bookstore adult graphic novel chart this month, ranking #2 among all titles in the category. Crumb is currently on a publicity tour of the U.S., which although controversial at times (see "Crumb's College Comments Create Controversy"), is generating new awareness of the work. Reviews and word of mouth are also contributing.
The Book of Genesis was topped only by manga powerhouse Naruto (Vol. 46), which took #1, as it almost always does the month the new volume is released.


BookScan Top 20 Graphic Novels in October 2009

Rank

Title

Author

Publisher

1

NARUTO VOL. 46

MASASHI KISHIMOTO

VIZ MEDIA

2

THE BOOK OF GENESIS ILLUS. BY R. CRUMB HC

ROBERT CRUMB

W. W. NORTON

3

THE ZOMBIE SURVIVAL GUIDE: RECORDED ATTACKS

MAX BROOKS

THREE RIVERS

4

ROSARIO+VAMPIRE VOL. 9

AKIHISA IKEDA

VIZ MEDIA

5

YU-Gi-OH! R VOL. 1

AKIRA ITO

VIZ MEDIA

6

CHIBI VAMPIRE VOL. 14

YUNA KAGESAKI

TOKYOPOP

7

MAXIMUM RIDE: THE MANGA VOL. 2

JAMES PATTERSON

YEN PRESS

8

BUFFY THE VAMPRE SLAYER SEASON 8 VOL. 5

JANE ESPENSON

DARK HORSE

9

FULLMETAL ALCHEMIST VOL. 20

ARAKAWA HIROMU

VIZ MEDIA

10

NEGIMA! VOL. 24

KEN AKAMATSU

DEL REY

11

WATCHMEN TP

ALAN MOORE

DC COMICS

12

SOUL EATER VOL. 1

ATSUSHI OHKUBO

YEN PRESS

13

THE THE GENTLEMEN'S ALLIANCE +

ARINA TANEMURA

VIZ MEDIA

14

ONE PIECE VOL. 22

EIICHIRO ODA

VIZ MEDIA

15

SKIP BEAT! VOL. 19

YOSHIKI NAKAMURA

VIZ MEDIA

16

PETER & MAX: A FABLES NOVEL

BILL WILLINGHAM

VERTIGO

17

NARUTO VOL. 45

MASASHI KISHIMOTO

VIZ MEDIA

18

BLEACH VOL. 28

TITE KUBO

VIZ MEDIA

19

SHUGO CHARA! VOL. 7

PEACH-PIT

DEL REY

20

YOTSUBA&! VOL. 6

KIYOHIKO AZUMA

YEN PRESS
It was a good month for Naruto publisher Viz, and for manga: the Top 20 Graphic Novel list includes nine Viz titles and a total of 15 manga titles (plus one OEL title). Two manga series debuts made the Top 20. Yu-Gi-Oh! R, from Viz, marks the first volume of the manga in the new Yu-Gi-Oh! series. And Yen Press debuted the first volume of Soul Eater, a manga new to the U.S. from Square Enix.
Among American titles, The Zombie Survival Guide: Recorded Attacks, the new book in Max Brooks' zombie franchise, is at #3.
What seems to be turning into a permanent top ten slot for graphic novel adaptations of American bestsellers was held this month by Maximum Ride: The Manga, the latest adaptation of James Patterson's work from Yen Press.
Watchmen Trade Paperback was down to #11 from #2 last month, with the waning of the DVD release publicity and merchandising.
The rankings, provided by Nielsen BookScan, track the bestselling U.S. graphic novels in major book chains, mass merchants, online retailers, and some independent retailers using POS data from August 30th to October 4th. Titles racked in the Kids or YA sections do not appear in this list.
For charts from other months, see the "BookScan Top 20 GNs Index."