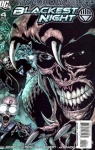 These are estimates of the sales on comic books by Diamond
U.S.
to comic specialty stores during October 2009.
For an overview and analysis of comic sales in October, see "DC Sweeps Top Spots."
For an analysis of the dollar trends in October, see "Comic Sales Sag in October."
For our estimates of actual sales by Diamond
U.S.
from comic specialty stores on graphic novels shipped during October, see "
Top 300 Graphic Novels Actual--October 2009
."
TOP 300 COMICS -- October 2009

Rank

Index

Title

Price

Pub

Est.Qty

1

192.03

BLACKEST NIGHT #4

$3.99

DC

137,169

2

142.24

BATMAN AND ROBIN #5

$2.99

DC

101,607

3

141.88

GREEN LANTERN #47 (BLACKEST NIGHT)

$2.99

DC

101,349

4

121.46

BLACKEST NIGHT BATMAN #3

$2.99

DC

86,760

5

113.92

GREEN LANTERN CORPS #41 (BLACKEST NIGHT)

$2.99

DC

81,377

6

109.57

BLACKEST NIGHT SUPERMAN #3

$2.99

DC

78,265

7

107.31

NEW AVENGERS #58

$3.99

MAR

76,656

8

105.86

DARK AVENGERS #10

$3.99

MAR

75,618

9

103.48

UNCANNY X-MEN #516

$2.99

MAR

73,916

10

100.85

AMAZING SPIDER-MAN #608

$2.99

MAR

72,035

11

100.00

BATMAN #691

$2.99

DC

71,431

12

98.45

BATMAN #692

$2.99

DC

70,322

13

93.89

ASTONISHING X-MEN #31

$2.99

MAR

67,064

14

89.13

BLACKEST NIGHT TITANS #3

$2.99

DC

63,670

15

87.80

ULTIMATE COMICS AVENGERS #3

$3.99

MAR

62,716

16

85.64

AMAZING SPIDER-MAN #609

$2.99

MAR

61,176

17

85.41

JUSTICE LEAGUE OF AMERICA #38

$2.99

DC

61,012

18

84.10

DARK WOLVERINE #79

$2.99

MAR

60,076

19

82.04

DETECTIVE COMICS #858

$3.99

DC

58,599

20

81.77

WEB OF SPIDER-MAN #1

$3.99

MAR

58,412

21

79.53

HULK #16

$3.99

MAR

56,811

22

76.14

JUSTICE LEAGUE CRY FOR JUSTICE #4

$3.99

DC

54,386

23

73.99

X-MEN LEGACY #228

$2.99

MAR

52,855

24

73.94

ULTIMATE COMICS SPIDER-MAN #3

$3.99

MAR

52,813

25

73.79

MIGHTY AVENGERS #30

$2.99

MAR

52,708

26

72.02

BATMAN ANNUAL #27

$4.99

DC

51,442

27

71.87

DEADPOOL #900

$4.99

MAR

51,337

28

70.33

BUFFY THE VAMPIRE SLAYER #29

$2.99

DAR

50,236

29

70.11

HAUNT #1

$2.99

IMA

50,078

30

68.77

INCREDIBLE HULK #603

$3.99

MAR

49,126

31

68.49

X-FORCE #20

$2.99

MAR

48,921

32

67.05

X NECROSHA

$3.99

MAR

47,894

33

66.05

INVINCIBLE IRON MAN #19

$3.99

MAR

47,178

34

65.57

SUPERMAN SECRET ORIGIN #2

$3.99

DC

46,840

35

64.80

DEADPOOL #16

$2.99

MAR

46,288

36

64.34

DARK REIGN LIST WOLVERINE ONE SHOT

$3.99

MAR

45,959

37

63.25

DAREDEVIL #501

$2.99

MAR

45,181

38

62.84

JUSTICE SOCIETY OF AMERICA #32

$2.99

DC

44,885

39

62.68

RED ROBIN #5

$2.99

DC

44,776

40

62.20

ADVENTURE COMICS #3

$3.99

DC

44,431

41

61.87

DETECTIVE COMICS ANNUAL #11

$4.99

DC

44,191

42

58.71

FANTASTIC FOUR #572

$2.99

MAR

41,939

43

58.37

DARK REIGN LIST HULK ONE SHOT

$3.99

MAR

41,695

44

56.21

DEADPOOL MERC WITH A MOUTH #4

$2.99

MAR

40,154

45

55.23

WOLVERINE ORIGINS #41

$2.99

MAR

39,453

46

55.04

MARVELS PROJECT #3

$3.99

MAR

39,313

47

53.82

WOLVERINE WEAPON X #6

$3.99

MAR

38,446

48

53.04

DARK REIGN LIST SECRET WARRIORS ONE SHOT

$3.99

MAR

37,890

49

52.16

SPIDER-WOMAN #2 (RES)

$2.99

MAR

37,255

50

51.85

WORLDS FINEST #1

$2.99

DC

37,037

51

51.81

BATGIRL #3

$2.99

DC

37,011

52

51.51

DARK REIGN LIST PUNISHER ONE SHOT

$3.99

MAR

36,791

53

51.34

SUPERMAN WORLD OF NEW KRYPTON #8

$2.99

DC

36,672

54

50.94

SECRET WARRIORS #9

$2.99

MAR

36,385

55

49.55

SUPERMAN #693

$2.99

DC

35,395

56

49.43

AZRAEL #1

$2.99

DC

35,311

57

48.95

NEW MUTANTS #6

$2.99

MAR

34,967

58

48.65

ACTION COMICS #882

$3.99

DC

34,754

59

48.42

SUPERMAN BATMAN #65

$2.99

DC

34,585

60

48.34

BATMAN STREETS OF GOTHAM #5

$3.99

DC

34,533

61

46.22

GOTHAM CITY SIRENS #5

$2.99

DC

33,015

62

45.84

X-MEN VS AGENTS OF ATLAS #1

$3.99

MAR

32,743

63

45.37

THUNDERBOLTS #137

$3.99

MAR

32,409

64

44.37

PLANETARY #27

$3.99

DC

31,691

65

44.13

ARKHAM REBORN #1

$2.99

DC

31,519

66

43.98

AVENGERS INITIATIVE #29

$2.99

MAR

31,412

67

43.41

CABLE #19

$2.99

MAR

31,009

68

42.53

SUPERGIRL #46

$2.99

DC

30,377

69

42.19

X-FACTOR #50

$3.99

MAR

30,138

70

40.83

TEEN TITANS #76

$3.99

DC

29,166

71

39.50

TITANS #18

$2.99

DC

28,215

72

39.49

ARCHIE #602

$2.50

ARC

28,211

73

38.81

STAND SOUL SURVIVORS #1

$3.99

MAR

27,725

74

38.03

PUNISHER #10

$2.99

MAR

27,167

75

37.92

ULTIMATE COMICS ARMOR WARS #2

$3.99

MAR

27,087

76

37.88

POWER GIRL #6

$2.99

DC

27,060

77

37.76

WONDER WOMAN #37

$2.99

DC

26,972

78

37.09

VENGEANCE OF MOON KNIGHT #2

$2.99

MAR

26,493

79

37.02

INCREDIBLE HERCULES #136

$2.99

MAR

26,447

80

36.39

DARK AVENGERS ARES #1

$3.99

MAR

25,995

81

36.00

MS MARVEL #46

$2.99

MAR

25,717

82

34.92

WALKING DEAD #66 (MR)

$2.99

IMA

24,944

83

34.84

BATMAN THE UNSEEN #1

$2.99

DC

24,887

84

34.78

BOYS #35 (MR)

$2.99

DE

24,841

85

33.42

AMAZING SPIDER-MAN PRESENTS ANTI VENOM #2

$3.99

MAR

23,870

86

33.03

GUARDIANS OF GALAXY #19

$2.99

MAR

23,597

87

32.85

INCREDIBLE HERCULES #137

$2.99

MAR

23,463

88

32.68

SECRET SIX #14

$2.99

DC

23,345

89

32.66

DOCTOR VOODOO AVENGER OF SUPERNATURAL #1

$3.99

MAR

23,328

90

32.45

BRAVE AND THE BOLD #28

$2.99

DC

23,176

91

32.04

ANGEL #26

$3.99

IDW

22,886

92

31.98

NOVA #30

$2.99

MAR

22,845

93

31.71

BATMAN THE UNSEEN #2

$2.99

DC

22,653

94

31.20

X-MEN FOREVER #10

$3.99

MAR

22,287

95

31.09

PUNISHER FRANK CASTLE MAX #75 (MR)

$4.99

MAR

22,210

96

30.95

STAR WARS LEGACY #41 ROGUES END

$2.99

DAR

22,109

97

30.70

X-MEN FOREVER #9

$3.99

MAR

21,926

98

30.23

BOOSTER GOLD #25

$3.99

DC

21,597

99

30.06

SPIDER-MAN CLONE SAGA #2

$3.99

MAR

21,473

100

29.98

OUTSIDERS #23

$2.99

DC

21,413

101

29.80

DARK REIGN YOUNG AVENGERS #5

$3.99

MAR

21,285

102

29.56

FABLES #89 (MR)

$2.99

DC

21,118

103

29.40

WITCHBLADE #131 SEJIC CVR A

$2.99

IMA

20,999

104

28.81

CRIMINAL SINNERS #1 (MR)

$3.50

MAR

20,580

105

28.70

SON OF HULK #16

$2.99

MAR

20,504

106

28.48

BLACK PANTHER 2 #9

$2.99

MAR

20,346

107

28.29

WAR MACHINE #10

$2.99

MAR

20,207

108

28.05

DOOM PATROL #3

$3.99

DC

20,036

109

27.76

JSA VS KOBRA #5

$2.99

DC

19,828

110

27.60

STAR WARS INVASION #0 ONE SHOT (OSW)

$3.50

DAR

19,714

111

27.18

HELLBOY WILD HUNT #7

$2.99

DAR

19,414

112

27.12

SUGARSHOCK ONE SHOT (OSW)

$3.50

DAR

19,371

113

26.79

STAR WARS INVASION #4

$2.99

DAR

19,138

114

25.86

SPAWN #195

$2.95

IMA

18,475

115

25.74

X-BABIES #1

$3.99

MAR

18,383

116

25.58

SPIDER-MAN 1602 #1

$3.99

MAR

18,273

117

25.36

TORCH #2

$3.99

MAR

18,115

118

25.22

GREEN ARROW BLACK CANARY #25

$3.99

DC

18,013

119

23.93

BATMAN CONFIDENTIAL #34

$2.99

DC

17,097

120

23.63

GHOST RIDERS HEAVENS ON FIRE #3

$3.99

MAR

16,879

121

23.41

BATMAN CONFIDENTIAL #35

$2.99

DC

16,724

122

23.10

STAR WARS KNIGHTS OLD REPUBLIC #46 DESTROYER PT 2 (C:

$2.99

DAR

16,502

123

22.77

GI JOE #10

$3.99

IDW

16,264

124

22.67

MAGOG #2

$2.99

DC

16,193

125

22.42

STRANGE TALES #2 (MR)

$4.99

MAR

16,018

126

22.16

INVINCIBLE #67

$2.99

IMA

15,831

127

21.44

UNWRITTEN #6 (MR)

$2.99

DC

15,314

128

21.35

DCU HALLOWEEN SPECIAL 2009 #1

$5.99

DC

15,251

129

21.27

ABE SAPIEN ONE SHOT (OSW)

$3.50

DAR

15,193

130

20.94

GI JOE ORIGINS #8

$3.99

IDW

14,961

131

20.79

IRON MAN IRON PROTOCOLS ONE-SHOT

$3.99

MAR

14,854

132

20.31

BPRD 1947 #4

$2.99

DAR

14,505

133

20.14

RED TORNADO #2

$2.99

DC

14,383

134

19.99

IRREDEEMABLE #7

$3.99

BOO

14,282

135

19.93

CROSSED #7 (MR)

$3.99

AVA

14,238

136

19.70

CAPTAIN AMERICA THEATER WAR GHOSTS OF MY COUNTRY

$3.99

MAR

14,071

137

19.48

WAR HEROES #3 (RES) (MR)

$2.99

IMA

13,918

138

19.39

QUEEN SONJA #1

$2.99

DE

13,849

139

19.39

ASTRO CITY ASTRA SPECIAL #2

$3.99

DC

13,847

140

19.08

DARK REIGN ZODIAC #3 DKR

$3.99

MAR

13,632

141

19.05

PUNISHER NOIR #3

$3.99

MAR

13,609

142

18.90

CHEW #5 (MR)

$2.99

IMA

13,498

143

18.77

TALISMAN ROAD OF TRIALS #0

$1.00

RAN

13,410

144

18.42

JACK OF FABLES #39 (MR)

$2.99

DC

13,161

145

18.23

VAMPIRELLA SECOND COMING #2 SUYDAM CVR

$1.99

HAR

13,020

146

18.02

PROJECT SUPERPOWERS MEET THE BAD GUYS #2

$2.99

DE

12,871

147

17.55

EX MACHINA #46 (MR)

$2.99

DC

12,538

148

17.48

ANGEL ONLY HUMAN #3

$3.99

IDW

12,486

149

17.39

IRON MAN ARMOR WARS #3

$2.99

MAR

12,422

150

17.13

GI JOE MOVIE SNAKE EYES #1

$3.99

IDW

12,236

151

16.83

ANGEL VS FRANKENSTEIN

$3.99

IDW

12,025

152

16.20

HOUSE OF M MASTERS OF EVIL #3

$3.99

MAR

11,569

153

16.08

RED SONJA #49

$2.99

DE

11,487

154

15.84

SWEET TOOTH #2 (MR)

$2.99

DC

11,315

155

15.83

FINAL CRISIS AFTERMATH RUN #6

$2.99

DC

11,304

156

15.81

PREDATOR #3

$3.50

DAR

11,293

157

15.80

REBELS #9

$2.99

DC

11,284

158

15.79

TRANSFORMERS ALL HAIL MEGATRON #16

$3.99

IDW

11,281

159

15.79

JONAH HEX #48

$2.99

DC

11,281

160

15.78

LAST DAYS OF ANIMAL MAN #6

$2.99

DC

11,271

161

15.76

UNCANNY X-MEN FIRST CLASS #4

$2.99

MAR

11,260

162

15.71

WITCHFINDER IN THE SERVICE OF ANGELS #4

$2.99

DAR

11,223

163

15.69

ANITA BLAKE LC EXECUTIONER #1 (MR)

$3.99

MAR

11,205

164

15.59

HOUSE OF MYSTERY HALLOWEEN ANNUAL #1 (MR)

$4.99

DC

11,134

165

15.29

HOUSE OF MYSTERY #18 (MR)

$2.99

DC

10,922

166

15.16

MARVEL DIVAS #4

$3.99

MAR

10,827

167

15.10

HALO HELLJUMPER #4 (MR)

$3.99

MAR

10,784

168

15.08

REBELS ANNUAL STARRO THE CONQUEROR #1

$4.99

DC

10,773

169

15.07

HELLBLAZER #260 (MR)

$2.99

DC

10,767

170

14.93

IGNITION CITY #5 (MR)

$3.99

AVA

10,665

171

14.84

FREDDY JASON ASH NIGHTMARE WARRIORS #5 (MR)

$3.99

DC

10,603

172

14.73

FINAL CRISIS AFTERMATH ESCAPE #6

$2.99

DC

10,519

173

14.62

WORLD OF WARCRAFT #24

$2.99

DC

10,442

174

14.56

SHIELD #2

$3.99

DC

10,401

175

14.50

GENEXT UNITED #5

$3.99

MAR

10,357

176

14.45

MODELS INC #2 (RES)

$3.99

MAR

10,321

177

14.41

NOMAD GIRL WITHOUT A WORLD #2

$3.99

MAR

10,296

178

14.29

WOLVERINE FIRST CLASS #20

$2.99

MAR

10,208

179

14.15

ESCAPE FROM WONDERLAND #2

$2.99

ZEN

10,108

180

14.12

LUKE CAGE NOIR #3

$3.99

MAR

10,084

181

14.10

INVINCIBLE PRESENTS ATOM EVE & REX SPLODE #1

$2.99

IMA

10,074

182

14.00

AMBUSH BUG YEAR NONE #7

$2.99

DC

10,000

183

14.00

MODELS INC #3

$3.99

MAR

9,997

184

13.99

FINAL CRISIS AFTERMATH DANCE #6

$2.99

DC

9,995

185

13.85

WARLORD #7

$2.99

DC

9,892

186

13.81

LIBERTY COMICS A CBLDF BENEFIT BOOK #2 (MR)

$4.99

IMA

9,866

187

13.68

STRANGE ADVENTURES #8

$3.99

DC

9,772

188

13.61

FINAL CRISIS AFTERMATH INK #6

$2.99

DC

9,720

189

13.41

SKRULL KILL KREW #5 DKR

$3.99

MAR

9,581

190

13.26

INCREDIBLES #1

$2.99

BOO

9,471

191

13.19

WEB #2

$3.99

DC

9,421

192

13.00

MADAME XANADU #16 (MR)

$2.99

DC

9,283

193

12.94

GREEK STREET #4 (MR)

$2.99

DC

9,246

194

12.86

GROO HOGS OF HORDER #1

$3.99

DAR

9,188

195

12.78

BATMAN THE KILLING JOKE NEW PTG

$5.99

DC

9,131

196

12.70

GRIMM FAIRY TALES #42

$2.99

ZEN

9,070

197

12.48

GFT HALLOWEEN SPECIAL 2009 A CVR NAVARRO

$5.99

ZEN

8,916

198

12.41

BUCK ROGERS #5

$3.50

DE

8,864

199

12.36

THOR TALES OF ASGARD BY LEE & KIRBY #6

$3.99

MAR

8,831

200

12.09

SOULFIRE VOLUME TWO #1 TO CVR

$2.99

ASP

8,639

201

11.97

TRIBUTE MICHAEL JACKSON KING OF POP

$3.99

BLU

8,551

202

11.94

CHRONICLES OF WORMWOOD LAST BATTLE #1 (MR)

$3.99

AVA

8,526

203

11.80

ENDERS GAME COMMAND SCHOOL #2

$3.99

MAR

8,428

204

11.73

COWBOY NINJA VIKING #1

$3.50

IMA

8,380

205

11.70

NORTHLANDERS #21 (MR)

$2.99

DC

8,360

206

11.70

DOCTOR WHO ONGOING #4

$3.99

IDW

8,354

207

11.69

TALES FROM WONDERLAND MAD HATTER #2 CVR A EBAS

$4.99

ZEN

8,352

208

11.57

SONIC THE HEDGEHOG #205

$2.50

ARC

8,263

209

11.56

TINY TITANS #21

$2.50

DC

8,259

210

11.44

AUTHORITY #15

$2.99

DC

8,174

211

11.39

ANNA MERCURY 2 #2 (MR)

$3.99

AVA

8,138

212

11.25

BOYS #1 DYNAMITE ED (MR)

$1.00

DE

8,039

213

11.17

TRANSFORMERS TALES O/T FALLEN #3

$3.99

IDW

7,977

214

11.15

WOLVERINE ART APPRECIATION ONE-SHOT

$3.99

MAR

7,964

215

11.15

SHERLOCK HOLMES #5

$3.50

DE

7,963

216

11.07

LONE RANGER & TONTO #3

$4.99

DE

7,905

217

10.74

PILOT SEASON DECLASSIFIED

$1.00

IMA

7,672

218

10.70

SIMPSONS COMICS #159

$2.99

BON

7,645

219

10.67

STAR TREK NERO #3

$3.99

IDW

7,620

220

10.57

ENDERS SHADOW COMMAND SCHOOL #2

$3.99

MAR

7,547

221

10.46

DO ANDROIDS DREAM OF ELECTRIC SHEEP #5

$3.99

BOO

7,474

222

10.45

STAR TREK SPOCK REFLECTIONS #4

$3.99

IDW

7,461

223

10.36

DMZ #46 (MR)

$2.99

DC

7,399

224

10.20

MARVEL SPOTLIGHT DEADPOOL

$2.99

MAR

7,284

225

10.18

ASTOUNDING WOLF-MAN #19

$2.99

IMA

7,271

226

10.09

BART SIMPSON COMICS #50

$2.99

BON

7,207

227

9.96

GHOSTBUSTERS DISPLACED AGGRESSION #2

$3.99

IDW

7,113

228

9.92

SONIC UNIVERSE #9

$2.50

ARC

7,083

229

9.89

STAR TREK ROMULANS SCHISM #2

$3.99

IDW

7,061

230

9.88

MARVEL HOLIDAY SPECTACULAR

$9.99

MAR

7,060

231

9.76

VIGILANTE #11

$2.99

DC

6,971

232

9.67

SCALPED #32 (MR)

$2.99

DC

6,905

233

9.64

WILDCATS #16

$2.99

DC

6,883

234

9.35

WALT DISNEYS COMICS & STORIES #699

$2.99

BOO

6,679

235

9.30

BATMAN THE BRAVE AND THE BOLD #10

$2.50

DC

6,646

236

9.29

UNKNOWN SOLDIER #13 (MR)

$2.99

DC

6,636

237

9.20

SAVAGE DRAGON #153

$3.50

IMA

6,571

238

9.15

STARR THE SLAYER #2 (MR)

$3.99

MAR

6,535

239

8.98

BEASTS OF BURDEN #2

$2.99

DAR

6,415

240

8.82

ABSOLUTION #2 (MR)

$3.99

AVA

6,299

241

8.78

KILL AUDIO #1

$3.99

BOO

6,270

242

8.62

AIR #14 (MR)

$2.99

DC

6,156

243

8.49

NORTH 40 #4

$2.99

DC

6,068

244

8.46

GEN 13 #32

$2.99

DC

6,044

245

8.41

HACK SLASH SERIES #27 A CVR SEELEY (MR)

$3.50

DDP

6,005

246

8.39

FARSCAPE GONE & BACK #4

$3.99

BOO

5,992

247

8.37

DOMINIC FORTUNE #3 (MR)

$3.99

MAR

5,980

248

8.30

MIGHTY #9

$2.99

DC

5,932

249

8.29

28 DAYS LATER #3

$3.99

BOO

5,923

250

8.24

DIE HARD YEAR ONE #2

$3.99

BOO

5,884

251

8.17

UNCLE SCROOGE #384

$2.99

BOO

5,835

252

7.92

ANCHOR #1

$3.99

BOO

5,655

253

7.87

JENNIFER LOVE HEWITTS MUSIC BOX #1

$3.99

IDW

5,621

254

7.85

GRAVEL #14 (MR)

$3.99

AVA

5,607

255

7.85

FARSCAPE DARGOS TRIAL #3

$3.99

BOO

5,604

256

7.81

FVZA #1 A CVR BOLTON (MR)

$4.99

RAL

5,582

257

7.80

CLIVE BARKERS SEDUTH 3-D #1

$5.99

IDW

5,574

258

7.79

ASPEN SHOWCASE KIANI

$2.99

ASP

5,566

259

7.54

BILLY BATSON AND THE MAGIC OF SHAZAM #9

$2.50

DC

5,383

260

7.40

MICE TEMPLAR DESTINY #4

$2.99

IMA

5,283

261

7.37

SALEMS DAUGHTER #2

$2.99

ZEN

5,266

262

7.28

THE GOOD THE BAD & THE UGLY #4

$3.50

DE

5,201

263

7.28

MUPPET PETER PAN #2

$2.99

BOO

5,199

264

7.18

FALLEN ANGEL REBORN #4

$3.99

IDW

5,130

265

7.06

GALACTICA 1980 #2

$3.50

DE

5,040

266

7.04

SUPER FRIENDS #20

$2.50

DC

5,026

267

6.84

CARS RADIATOR SPRINGS #2

$2.99

BOO

4,886

268

6.58