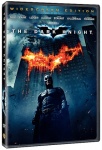 The hyper-deflation of entertainment products online this holiday season is now moving to brick and mortar. Target will be selling The Dark Knight DVD, originally released last year, at $3.99. Other $3.99 titles are older: Elf, Sex and the City, and Forgetting Sarah Marshall. The Dark Knight Blu-ray and others are $12.99.
Other films range from $5.99 to $10.0, including fairly recent animated releases.
TV season sets, including Supernatural, will be as low as $8.99.
Major retailers have made entertainment products a battleground of price-cutting this holiday season, with advance order hardcovers under $9.00 (see "Online Book Price Wars") and advance order DVDs under $10 (see "Walmart Opens New Front in Online Price War").