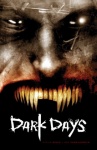 30 Days of Night: Dark Days, the direct-to-DVD sequel to the 2007 30 Days of Night movie, is currently shooting in Canada. Dark Days is an adaptation of the sequel to Steve Niles and Ben Templesmith's original 30 Days of Night mini-series published by IDW. Steve Niles told the Bloody Disgusting Website that more sequels are possible (there are at least eight 30 Days of Night graphic novels published so far), if Dark Days does well.
The 2007 movie adaptation of 30 Days of Night earned $39,568,996 domestically versus a budget of $30 million. Adding in overseas receipts and DVD revenue and the film probably made a little money, but not enough to finance a theatrical sequel. The 2007 film starred Josh Hartnett as Sheriff Eben Olemaun and Melissa George as his wife Stella.
Dark Days focuses on Stella's attempt to get revenge for the death of her husband. In Dark Days, which is directed by Ben Ketai, Kiele Sanchez from Lost replaces George as Stella. If Dark Days does well, there is plenty of material for a franchise available starting with Return to Barrow, the third graphic novel in the series.