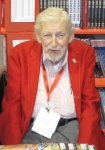 We've just received word that our friend and long-time fan, Ken Krueger, passed away as the result of a heart attack over the weekend. Krueger was a member of fandom from the very first World Science Fiction Convention, held July 4, 1939, through this past summer, when he attended San Diego Comic-Con, where he was honored as the chairman of the very first Comic-Con on the occasion of its 40th anniversary (see "Another Great San Diego Comic-Con").
Krueger was a fixture in the comics and science fiction world for decades, as a publisher, retailer, and distributor. He also collected, pretty much everything. "The first time I met him we visited his house in Sparta, Illinois where he'd been running the warehouse for Pacific Comics," ICv2 publisher Milton Griepp recalled. "One of the rooms in that house was stacked floor to ceiling with boxes, wall to wall with no aisles, up to the door. And that wasn't the only place in his house where he had portions of his collection."
Krueger later ran the Los Angeles-area warehouse of Capital City Distribution (the publisher of Internal Correspondence, the predecessor of ICv2). It was on his departure from that job that Capital threw him a "retirement party," where his employer and friends came to honor him for his long career in comics. Of course, it was inevitable that he continued to be active in the business that he loved long after that "retirement" in the early 90s, so it's arguable that the retirement didn't take. Regardless, it was still a great way to get together to reminisce and honor this key figure in the growth of comics and science fiction in the U.S. It remains one of our favorite Ken memories.
A memorial service will be held in upstate New York at a date to be announced.