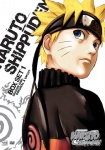 Viz Media has announced the release of the first Uncut Box Set of the Naruto Shippuden anime on January 26th. The Uncut Box Sets Viz Media produced for the original Naruto series were all bestsellers as fans preferred the 13-episode, uncut format and made those sets huge hits in the mass market at venues such as Best Buy and Wal-Mart.
Viz Media is releasing two versions of the Naruto Shippuden Box Set #1, a Special Edition (MSRP $69.97) that includes a collectible Naruto Shippuden Mininja figure. The Standard Edition (MSRP $49.95) includes the same 13-episodes on three discs, but doesn't include the figure. The Naruto Shippuden Box Sets include both the original Japanese soundtrack (with optional English subtitles) and an English dub track. Both are rated "Teen +," which means suitable for ages 16 and up.
The Naruto Shippuden anime series, which follows the adventures of an older Naruto Uzumaki who returns to the Village Hidden in the Leaves after two-and-one-half years of training on the road with Jiraiya of the Sannin, airs on the Disney XD cable channel.