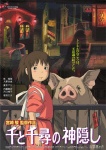 Tom King's article in Friday's edition of the Wall St. Journal examines the Disney studio's difficulties in selling Hayao Miyazaki's Spirited Away to American audiences. King points out that of the anime films released theatrically in the U.S., only the first Pokemon film has made over $50 million. Disney's previous effort to release Miyazaki's Princess Mononoke to the U.S. market yielded only $2.4 million at the box office. Even though Spirited Away broke all the box office records in Japan (see 'Miyazaki Film Sets Japan Box Office Record'), it faces problems in the U.S. where the film's director is not well known, and where the film's two hour and twenty-minute running time is far longer than what Americans expect from animated feature films.
In spite of the fact that Miyazaki reportedly gave permission for his old friend, John Lasseter of Pixar Animation (Toy Story) to cut the film for the American market, Lasseter has decided to leave the film intact. Lasseter and Kirk Wise (Beauty and the Beast), who were jointly responsible for the American version of Spirited Away, also decided to keep the music score from the Japanese original intact. They also brought in an all-star cast for the English dubbing, including Suzanne Pleshette, John Ratzenberger, and Daveigh Chase (Lilo, from Lilo & Stitch). Disney's approach remains hardheaded and realistic -- Disney's Dick Cook told the Journal that the film's September 20 opening won't hurt because, 'While we hope that we will be able to get kids, initially our audience is going to be adults who appreciate the art of animation.'
It's still anybody's guess whether or not Disney will be able to attain any sort of mass market success with Spirited Away.

Certainly, unlike the Pokemon films, Spirited Away is a masterwork from a master animator and American audiences will eventually realize the quality of Miyazaki's work.

For pop culture retailers, the situation is a win-win, if Spirited Away succeeds at the box office, with books from Viz and backlist titles from Disney (Mononoke, Kiki's Delivery Service), Manga (Castle of Cagliostro) and Pioneer (Sherlock Hound) there should be plenty of product to interest new fans -- and if Spirited Away stiffs, well Princess Mononoke did, and it still became Diamond's number one best-selling DVD of all time.

Sometimes, for pop culture retailers anyway, it's even better if a property doesn't succeed completely in the mass market.