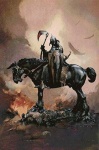 Frank Frazetta, Sr. attempted to authorize Frank Jr. to secure the paintings in the Frazetta museum, according to the Pocono Record, but may not have had the legal right to do so because control of the paintings had been transferred to an LLC controlled by Frank Jr.'s siblings. Frank Jr. was charged with theft after he and two others gained entrance to the museum with a backhoe and removed $20 million worth of paintings (see "$20 Million Frazetta Heist").
The Record reported that a notary said that she'd notarized documents for Frank Sr. authorizing Frank Jr. to secure the paintings and removing a power of attorney given to his siblings. But it also reported that the local assistant district attorney believed that Frank Sr. no longer owned the paintings, ownership of which had been transferred to an LLC naming his children as beneficiaries.
There's much more in the story, which tells a tale of a family dispute now being fought out in the public eye and with criminal implications. Frank Jr. remains in jail.