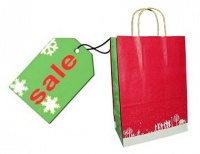 Holiday sales grew slightly from November 1 through December 24th, according to MasterCard Advisors' SpendingPulse. After adjusting for an additional shopping day between November 1st and Christmas this year, over-all retail sales (not including cars and gas) were up 1% vs. 2008.
Since 2008 sales were down about 2.3%, sales this year are still below 2007's.
One channel was a clear winner: online sales were up 15.5% over 2008 for the period. Weather foiled a lot of shopping trips in the last week before the holiday, moving sales online and topping off an already strong year. Numbers for the percentage of over-all sales that are online were not released, but it's not hard to imagine a scenario in which brick and mortar sales were flat to down a little, with share of a slightly larger market moving to online.