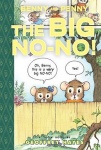 The American Library Association's awards, announced at the organization's Midwinter Meeting in Boston Monday, included two major kudos for graphic novel publisher Toon Books and an award for Stitches.
Toon's Benny and Penny in the Big No-No!, by Geoffrey Hayes, took the Theodor Seuss Geisel Award for most distinguished beginning reader book; Little Mouse Gets Ready, by Jeff Smith, is a Geisel Honor Book.
Two of Toon's three releases last year were honored by the award, an impressive track record. Last year, Toon's Stinky was a Geisel Honor book (see "'Stinky' Named Geisel Honor Book").
Toon editorial director Francoise Mouly expressed satisfaction at the ratification of the concept of comic material for emerging readers. When Mouly and Art Spiegelman started Toon in 2008, "nobody had ever published comics for kids that young before," Mouly said. "The Geisels and all the other awards the Toon books have gotten are deeply gratifying."
Norton's Stitches: A Memoir, by David Small, received an Alex Award as one of the ten best adult books that appeal to teen audiences.
Toon is going back to press on Benny and Penny in the Big No-No! and moving up the publication date of Hayes' new Benny and Penny book, The Toy Breaker, to April 6th. Little Mouse Gets Ready is also going back to press and will be available on the same date.
Toon's Something Ate My Homework, featuring Zig and Wikki, will also be released on April 6th.