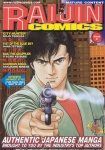 This fall two different publishers will launch manga anthology magazines in the U.S. They will both have very strong line-ups, the major difference is that Raijin will be a weekly (see Gutsoon! To Launch First US Weekly Anthology') whereas Shonen Jump from Viz will appear monthly. Sam Humphries, the editor of the American edition of Raijin has announced his magazine's line-up on the Raijin website (Viz will announce all the manga series for Shonen Jump on Wednesday).
Though we only know two of the manga series planned for Shonen Jump (DBZ and Yu-Gi-Oh), it appears that Raijin will be aimed at slightly older readers since the manga series announced by Humphries appear to be, for the most part, more violent and gritty. Set in the Shanghai underworld circa 1932, Hara Tetsuo's Fist of the Blue Sky is a 'prequel' to his action classic Fist of The North Star. City Hunter by Hojo Tsukasa is another Raijin series that exposes the grungy Tokyo underworld. A longtime favorite of Japanese readers, City Hunter features relentless mercenary Saebo Ryo, who exacts his own brand of justice. Bomber Girl by Niwano Makoto mixes a sexy heroine with a little of the old ultra violence in tales of a Pam Anderson-like bounty hunter, who often ends up killing the criminals before she gets her reward. At the other end of the political spectrum is First President of Japan by Tsugihara Ryugi and Hidaka Yoshiki -- a taut political thriller set in the near future.
Raijin will also contain two of Japan's foremost sports manga, Inoue Takehito's Slam Dunk and Itagake Keisuke's Baki the Grappler. Slam Dunk mixes sports action with Dawson's Creek-like romantic turbulence, while Baki the Grappler, the story of a 17-year-old unknown's attempt to win the world Martial Arts Championship, is legendary in Japan for being the most accurate martial arts manga.
Raijin's one 'testosterone-free zone' will be provided by Sakurano Minene, Japan's newest female manga superstar, who both writes and draws the hit 'magical girl' manga, Guardian Angel, which blends fantasy, humor, and romance into a wild boy-meets-girl-from-another-dimension shoujo saga.