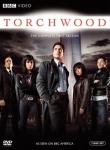 A U.S. version of Torchwood is in development at Fox, according to Hollywood Reporter. Original series creator Russell Davies is writing the script. He's joined by fellow BBC vets Julie Gardner and Jane Tranter.
Fox hasn't ordered a pilot yet, but if it does, BBC star John Barrowman may be tapped to star in the U.S. version as well.
Torchwood has been getting great ratings in the U.S. on BBC America. The five-episode miniseries Torchwood: Children of the Earth was recently a factor in bringing BBC America its best ratings week ever (see "Torchwood Smoking in U.S.").