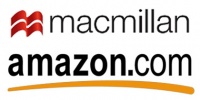 A dispute over e-book pricing led Amazon to stop selling all Macmillan titles, including the graphic novel People's History of American Empire, over the weekend. The dispute began, according to a statement released by Macmillan's John Sargent, when he informed Amazon on Thursday that the company wanted to begin selling Kindle editions of new hardcovers for $12.99 to $14.99 with Amazon receiving a 30% commission, rather than the current $9.99 retail. Prices would decline over time.
Sargent also informed Amazon, according to the statement, that if Amazon refused to accept the new pricing strategy that it would "involved extensive and deep windowing of titles."
Amazon responded by taking all Macmillan books and Kindle editions off sale late Friday; the books are still available from third party sellers.
In a post on the Kindle forums on Sunday, Amazon described the source of the dispute and explained its actions. "We have expressed our strong disagreement and the seriousness of our disagreement by temporarily ceasing the sale of all Macmillan titles," the post said.
But Amazon indicated that it would eventually cave and offer Macmillan titles under the pricing Macmillan prefers. "We want you to know that ultimately, however, we will have to capitulate and accept Macmillan's terms because Macmillan has a monopoly over their own titles, and we will want to offer them to you even at prices we believe are needlessly high for e-books," the post said.
Macmillan was undoubtedly emboldened by the announcement of Apple's new digital bookstore (see "Is iPad a Game-changer?"), for which retail pricing will be controlled by the publishers. Amazon had been attempting to force publishers to hold to its pricing model, with lower prices.
Amazon's Jeff Bezon revealed last week (while announcing 40% higher earnings for the year) that the company had sold "millions" of Kindles, and that for titles that had book Kindle and print editions, Amazon sold six Kindle editions for every print edition.