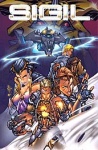 At the 'CrossGen Comics and Hollywood' panel at this year's San Diego Comic-Con International, CrossGen's uber agent Michael Uslan of Branded Entertainment announced six film and TV projects and promised more in the near future. Uslan, who is well known in Tinseltown for producing several Batman projects, told the audience that he felt that the CrossGen-inspired films could avoid many of the pitfalls of Hollywood's 'development hell' and actually get produced, though it will take a minimum of two years before any of these projects is ready for release.
Chuck Russell, who directed The Mask and The Scorpion King, made the first announcement at the panel: Russell and Frank Darabont (Shawshank Redemption, The Green Mile) are currently working on an adaptation of CrossGen's Kung-Fu influenced Way of the Rat comic. Given the success of Crouching Tiger, Hidden Dragon and the cult following for Hong Kong action films, The Way of the Rat might turn out to be a very strong debut for the CrossGen properties. Russell did not name any potential cast members, and indicated the project was at least two years away. Russell is also working on a film based on Scion, one of CrossGen's most popular fantasy adventure series, though it appears that Way of the Rat will come out first.
A spokesman for producer/director Robert Zemeckis (Cast Away) was up next and he announced that Zemeckis had optioned the CrossGen horror title Route 666. While Route 666 is headed for the big screen, Larry Kassanoff, who worked on the film version of Mortal Combat as well as on the 'Arnold' vehicle True Lies, is developing Sigil, the CrossGen science fiction saga, as a weekly television series. Larry Whitaker of Cornerstone Animation then announced another CrossGen project in yet another format -- the fairy-tale like Meridian is being made into a feature length animated film.
Since horror film maestro Wes Craven was heavily involved in producing his latest film and couldn't make the panel, Michael Uslan made the final CrossGen announcement of the day -- Craven is developing CrossGen's Mystic property into a television series, though Uslan did not say whether Craven would shop Mystic to the networks or attempt to place it in syndication.

All in all it was an impressive series of announcements and both Uslan and CrossGen's Mark Alessi promised that there would be more movie and media deals announced within the next 30 days.