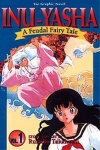 The Cartoon Network has announced that the anime version of Rumiko Takahashi's Inu-Yasha will debut on the Cartoon Network's Adult Swim Block at 11 pm (ET & PT) on Saturday, August 31. Sunrise Animation, one of Japan's leading anime studios, produced the 52- episode series, which has been a major hit in Japan. Viz has published 10 Inu-Yasha graphic novels so far, so the debut of the anime series should provide a major opportunity for retailers who sell manga. The Cartoon Network is currently seen in 81.1 million U.S. homes and the Adult Swim, a twice-weekly block of animation aimed at adults 18-34, has posted impressive ratings growth since its launch.
Inu-Yasha, the story of a girl who is transported back to the feudal Japan of the Muromachi Period (1467-1568), will become a part of the anime happy Saturday Adult Swim along with Cowboy Bebop, Pilot Candidate, Gundam 0083, Yu Yu Hakusho, and Outlaw Star. Adult Swim attracts more 18-34 year-old viewers than its cable competitors like the Sci-Fi channel, A&E, History Channel, TNN, TV Land, FX, VH1, and E!.
ICv2 has also learned that the Big O 2, a sequel to the Big O anime series, will appear on the Cartoon Network, though no date has been set.

Reports from Japan indicate that the Big O 2 was created largely in response to American demand.

The original Big O series, with its echoes of Batman Animated and Fritz Lang's Metropolis (see 'Big O Debut Set') found favor with American audiences.