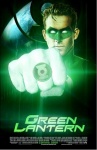 Warner Bros. has announced that it plans on releasing the Green Lantern movie in 3-D. The Green Lantern film, which Martin Campbell is directing, stars Ryan Reynolds as the eponymous superhero and Peter Sarsgaard as the villain Hector Hammond. Shooting the film in 3-D will apparently not result in any delay in its release date, which is still set for June 17th, 2011 (see "Green Lantern Gets a Date").
There is no greater proof of the power of the example of Avatar than Warner Bros.' decision to use the 3-D process on a number of its "tentpole" projects over the next two years including in addition to Green Lantern, Clash of the Titans (April 2nd, 2010, see "The Losers Moved to June"), Harry Potter and the Deathly Hallows Part 1 (November 19th), Part 2 (July 15th, 2011), and Zack (Watchmen) Snyder's Sucker Punch (March 25th, 2011).
With production set to begin late this month, there is plenty of time to shoot the Green Lantern movie with 3-D cameras, which is generally preferable to using a computer to add an extra dimension to footage that has already been shot as is the case with Clash of the Titans. Shooting the film in 3-D should allow the director to use the depth created by the process in more creative ways (see Avatar). Adding 3-D in post production could result in films that aren't as immersive as the best movies created in 3-D from the start, which could lead to audiences tiring of the "fad," especially given the premium prices charged for 3-D films.
Another potential problem for the Green Lantern, which may be moot by the time the film opens, is the current lack of 3-D screens. With Part 2 of the final Harry Potter saga debuting just a month after the Green Lantern, Warner Bros. may be competing with itself for 3-D capable screens unless a lot more theaters adopt the extra-dimensional technology by next summer. So don't be surprised by a debut date change for either Green Lantern or (less likely) Harry Potter and the Deathly Hallows, Part 2.