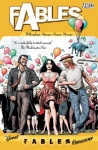 These are estimates of the sales on graphic novels by Diamond U.S. to comic specialty stores during February 2010.
For an overview and analysis of comic sales in February, see "
'Blackest Night' Finishing Strong
."
For an analysis of the dollar trends in February, see "Comic Sales Edge Lower in February."
For our estimates of actual sales by Diamond
U.S.
from comic specialty stores on comic books shipped during February, see "
Top 300 Comics Actual--February 2010
."
TOP 300 GNs -- February 2010

Rank

Index

Title

Price

Pub

Est.Qty

1

19.40

FABLES TP VOL 13 THE GREAT FABLES CROSSOVER (MR)

$17.99

DC

11,892

2

14.92

KICK ASS PREM HC (MR)

$24.99

MAR

9,143

3

9.08

ALL STAR SUPERMAN TP VOL 02

$12.99

DC

5,565

4

8.36

NARUTO TP VOL 47

$9.99

VIZ

5,126

5

7.20

STAR WARS ADV TP VOL 03 LUKE SKYWALKER TREASURE DRAGONSNAKES

$7.95

DAR

4,412

6

7.06

GREEN LANTERN SECRET ORIGIN TP

$14.99

DC

4,329

7

6.85

DARK TOWER FALL OF GILEAD PREM HC

$24.99

MAR

4,200

8

6.73

HELLBLAZER PANDEMONIUM HC (MR)

$24.99

DC

4,124

9

5.50

STAR WARS LEGACY TP VOL 08 TATOOINE

$17.99

DAR

3,369

10

5.24

BERSERK TP VOL 33

$14.99

DAR

3,210

11

4.83

MADAME XANADU TP VOL 02 EXODUS NOIR (MR)

$12.99

DC

2,962

12

4.25

STARMAN OMNIBUS HC VOL 04

$49.99

DC

2,607

13

4.13

DEADPOOL PREM HC VOL 03 X MARKS THE SPOT

$19.99

MAR

2,533

14

3.94

HULK TP VOL 03 HULK NO MORE

$15.99

MAR

2,417

15

3.92

PREACHER HC BOOK 02 (MR)

$39.99

DC

2,401

16

3.78

DC UNIVERSE ORIGINS TP

$14.99

DC

2,318

17

3.66

BATMAN CHRONICLES TP VOL 09

$14.99

DC

2,241

18

3.59

LEGEND OF ZELDA GN VOL 09

$7.99

VIZ

2,200

19

3.58

MESMO DELIVERY GN VOL 01

$9.99

DAR

2,197

20

3.47

IGNITION CITY TP VOL 01 (MR)

$19.99

AVA

2,127

21

3.43

NEGIMA GN VOL 25 (MR)

$10.99

RAN

2,101

22

3.42

DARK AVENGERS PREM HC VOL 02 MOLECULE MAN

$19.99

MAR

2,095

23

3.39

SHOWCASE PRESENTS SECRETS OF SINISTER HOUSE TP

$17.99

DC

2,075

24

3.22

TINY TITANS SIDEKICKIN IT TP

$12.99

DC

1,976

25

3.11

IMMORTAL WEAPONS TP

$16.99

MAR

1,909

26

3.06

VAMPIRE KNIGHT TP VOL 09

$9.99

VIZ

1,878

27

3.06

ASTOUNDING WOLF MAN TP VOL 03

$16.99

IMA

1,873

28

3.05

DEADPOOL & CABLE ULTIMATE COLLECTION TP BOOK 01

$39.99

MAR

1,867

29

3.04

WOLVERINE DARK WOLVERINE TP PRINCE

$14.99

MAR

1,866

30

3.04

SPIDER-MAN ANTI-VENOM TP

$14.99

MAR

1,865

31

2.99

WALKING DEAD TP VOL 11 FEAR THE HUNTERS (MR)

$14.99

IMA

1,831

32

2.91

HALO HELLJUMPER PREM HC (MR)

$24.99

MAR

1,783

33

2.89

WOLVERINE HC OLD MAN LOGAN

$34.99

MAR

1,774

34

2.88

HITMAN TP VOL 02 10000 BULLETS

$17.99

DC

1,765

35

2.81

ESSENTIAL DAREDEVIL TP VOL 05

$19.99

MAR

1,723

36

2.78

SPIDER-MAN 24 7 TP

$19.99

MAR

1,702

37

2.72

CLASSIC GI JOE TP VOL 07

$24.99

IDE

1,669

38

2.71

BATMAN KING TUTS TOMB TP

$14.99

DC

1,660

39

2.67

MMW FANTASTIC FOUR HC VOL 12

$54.99

MAR

1,637

40

2.66

NEW AVENGERS PREM HC VOL 12 POWER LOSS

$19.99

MAR

1,633

41

2.63

MARVEL 1602 TP

$19.99

MAR

1,609

42

2.61

BROKEN TRINITY TP

$14.99

IMA

1,597

43

2.48

SUPERMAN MON EL HC VOL 01

$24.99

DC

1,518

44

2.46

MMW CAPTAIN AMERICA TP VOL 01

$24.99

MAR

1,509

45

2.29

WAR MACHINE TP VOL 02 DARK REIGN

$15.99

MAR

1,406

46

2.29

SPIDER-MAN GAUNTLET PREM HC ELECTRO SANDMAN

$24.99

MAR

1,404

47

2.27

FANTASTIC FOUR IN SEARCH OF GALACTUS PREM HC

$29.99

MAR

1,390

48

2.25

YU GI OH R GN VOL 03

$9.99

VIZ

1,381

49

2.18

NEXTWAVE AGENTS OF HATE TP ULTIMATE COLLECTION

$34.99

MAR

1,336

50

2.17

PROJECT SUPERPOWERS CHAPTER TWO TP VOL 01

$9.99

DYN

1,331

51

2.16

MMW GOLDEN AGE DARING MYSTERY HC VOL 02

$59.99

MAR

1,321

52

2.14

KUROSAGI CORPSE DELIVERY SERVICE TP VOL 10 (MR)

$10.99

DAR

1,310

53

2.13

WALKING DEAD TP VOL 01 DAYS GONE BYE

$9.99

IMA

1,307

54

2.13

D GRAY MAN GN VOL 16 (MR)

$9.99

VIZ

1,305

55

2.11

IRON MAN & ARMOR WARS GN TP

$14.99

MAR

1,293

56

2.11

HULK PREM HC VOL 04 HULK VS X-FORCE

$24.99

MAR

1,292

57

2.09

LUCKY STAR GN VOL 04

$10.99

BAN

1,284

58

2.04

ULTIMATE COMICS IRON MAN ULTIMATE COLLECTION TP

$29.99

MAR

1,250

59

2.03

DARK TOWER TREACHERY PREM HC

$24.99

MAR

1,244

60

2.02

ONE PIECE TP VOL 29

$9.99

VIZ

1,236

61

2.01

LITTLE LULU TP VOL 22 BIG DIPPER CLUB

$14.99

DAR

1,234

62

2.00

THOR BY DAN JURGENS & JOHN ROMITA JR TP VOL 02

$24.99

MAR

1,225

63

1.99

INU YASHA TP VOL 45

$9.99

VIZ

1,220

64

1.99

INDIANA JONES FURTHER ADV OMNIBUS TP VOL 03

$24.99

DAR

1,218

65

1.98

ONE PIECE TP VOL 30

$9.99

VIZ

1,216

66

1.98

ONE PIECE TP VOL 32

$9.99

VIZ

1,213

67

1.97

ONE PIECE TP VOL 31

$9.99

VIZ

1,209

68

1.97

ONE PIECE TP VOL 33

$9.99

VIZ

1,208

69

1.97

DARK TOWER LONG ROAD HOME HC

$24.99

MAR

1,205

70

1.94

HOUSE OF M TP MASTERS OF EVIL

$14.99

MAR

1,188

71

1.92

WATCHMEN TP

$19.99

DC

1,176

72

1.88

X-MEN LEGACY PREM HC EMPLATE

$19.99

MAR

1,154

73

1.85

GI JOE TP VOL 02

$19.99

IDE

1,135

74

1.83

DAREDEVIL LONE STRANGER TP

$24.99

MAR

1,124

75

1.81

CHEW TP VOL 01 (MR)

$9.99

IMA

1,108

76

1.80

INCREDIBLE HULK PREM HC VOL 01 SON OF BANNER

$19.99

MAR

1,101

77

1.79

BRAVE AND THE BOLD MILESTONE TP

$17.99

DC

1,098

78

1.78

TRANSFORMERS ANIMATED TP VOL 13

$7.99

IDE

1,090

79

1.78

MIGHTY AVENGERS PREM HC UNSPOKEN

$19.99

MAR

1,089

80

1.75

ANCHOR TP VOL 01

$9.99

BOO

1,075

81

1.73

STAR TREK NERO TP

$17.99

IDE

1,060

82

1.73

UNWRITTEN TP VOL 01 TOMMY TAYLOR BOGUS IDENTITY TP (MR)

$9.99

DC

1,059

83

1.70

COMPLETE DRACULA HC (MR)

$24.99

DYN

1,040

84

1.67

BLACK PANTHER POWER TP

$16.99

MAR

1,026

85

1.67

ANGEL ONLY HUMAN TP

$19.99

IDE

1,023

86

1.66

FINAL CRISIS AFTERMATH DANCE TP

$17.99

DC

1,018

87

1.66

SOUL EATER TP VOL 02

$10.99

HAC

1,018

88

1.65

FANTASTIC FOUR BY JONATHAN HICKMAN PREM HC VOL 01

$19.99

MAR

1,009

89

1.64

AVENGERS KORVAC SAGA PREM HC

$34.99

MAR

1,006

90

1.59

MUPPET PETER PAN TP VOL 01

$9.99

BOO

977

91

1.59

FINAL CRISIS AFTERMATH RUN TP

$17.99

DC

972

92

1.57

KICK ASS HC TITAN UK ED (MR)

$24.99

TIT

964

93

1.56

28 DAYS LATER HC VOL 01

$19.99

BOO

957

94

1.54

FABLES TP VOL 01 LEGENDS IN EXILE

$9.99

DC

942

95

1.53

STAR TREK ROMULANS PAWNS OF WAR TP

$19.99

IDE

935

96

1.52

CAPTAIN AMERICA THEATER OF WAR HC

$24.99

MAR

934

97

1.51

POPGUN GN VOL 04

$29.99

IMA

924

98

1.50

IRON MAN TALES OF GOLDEN AVENGER TP GN

$14.99

MAR

917

99

1.49

DOMINIC FORTUNE IT CAN HAPPEN HERE AND NOW TP (MR)

$19.99

MAR

915

100

1.48

MEGA MAN MEGAMIX GN VOL 01 (OF 3)

$12.95

UDO

910

101

1.48

WALKING DEAD TP VOL 10 WHAT WE BECOME

$14.99

IMA

908

102

1.48

MARVEL ADVENTURES IRON MAN SPIDER-MAN TP DIGEST

$9.99

MAR

905

103

1.45

BEN TEN ALIEN FORCE DOOM DIMENSION GN VOL 01

$7.99

RAN

887

104

1.44

WALKING DEAD TP VOL 02 MILES BEHIND US (NEW PTG)

$14.99

IMA

883

105

1.39

ALMOST SILENT HC

$24.99

FAN

851

106

1.38

STAND CAPTAIN TRIPS PREM HC

$24.99

MAR

846

107

1.36

HIKARU NO GO TP VOL 18

$9.99

VIZ

835

108

1.32

BIOMEGA GN VOL 01 (MR)

$12.99

VIZ

806

109

1.31

SPARROW HC VOL 14 ASHLEY WOOD VOL 3

$11.99

IDE

802

110

1.30

ROCK N ROLL COMICS TP VOL 01 BEATLES EXPERIENCE (MR)

$17.99

BLU

797

111

1.30

NAOKI URASAWA 20TH CENTURY BOYS GN VOL 07

$12.99

VIZ

794

112

1.28

MICKEY MOUSE CLASSICS HC VOL 01

$24.99

BOO

785

113

1.27

DOT HACK CELL GN VOL 01

$10.99

TOK

780

114

1.24

BIG BAD BOOK GN (MR)

$11.99

ALT

761

115

1.23

WIZARDS OF MICKEY SC VOL 01 MOUSE MAGIC

$9.99

BOO

756

116

1.23

Y THE LAST MAN TP VOL 01 UNMANNED

$12.99

DC

755

117

1.23

KOBRA RESURRECTION TP

$19.99

DC

754

118

1.17

SPLENDID MAGIC OF PENNY ARCADE 11.5 ANNIV ED HC

$24.00

RAN

719

119

1.16

POKEMON ADVENTURES TP VOL 05 2ND ED

$7.99

VIZ

712

120

1.16

VAMPIRES PORTRAIT GN VOL 02 (OF 2) (MR)

$12.95

DIG

712

121

1.15

SHAMAN WARRIOR TP VOL 09 (OF 9)

$12.99

DAR

705

122

1.13

KICK ASS CREATING COMIC MAKING MOVIE SC (MR)

$19.95

TIT

695

123

1.13

DANCE IN THE VAMPIRE BUND GN VOL 06 (MR)

$10.99

ST.

691

124

1.13

WALKING DEAD TP VOL 03 SAFETY BEHIND BARS

$14.99

IMA

690

125

1.12

ULTIMO GN VOL 01

$9.99

VIZ

687

126

1.10

UMBRELLA ACADEMY TP VOL 02 DALLAS

$17.99

DAR

674

127

1.06

INCREDIBLE HERCULES HC SACRED INVASION

$34.99

MAR

652

128

1.06

WALKING DEAD TP VOL 09 HERE WE REMAIN (MR)

$14.99

IMA

649

129

1.02

TUROK SON OF STONE ARCHIVES HC VOL 05

$49.99

DAR

627

130

1.01

WEREWOLVES ON THE MOON VERSUS VAMPIRES TP VOL 01

$12.99

DAR

621

131

1.01

MODELS INC GN TP

$14.99

MAR

617

132

0.99

JET SCOTT GN VOL 01

$34.99

DAR

607

133

0.98

NEWAVE UNDERGROUND MINI COMIX O/T 80S HC

$24.99

FAN

599

134

0.98

PREACHER TP VOL 01 GONE TO TEXAS NEW EDITION (MR)

$14.99

DC

599

135

0.96

BOYS TP VOL 05 HEROGASM (MR)

$19.99

DYN

588

136

0.96

THIS UGLY YET BEAUTIFUL WORLD GN VOL 02 (OF 3) (MR)

$12.99

TOK

588

137

0.96

FABLES TP VOL 02 ANIMAL FARM

$12.99

DC

586

138

0.94

WALKING DEAD TP VOL 04 HEARTS DESIRE (NEW PTG)

$14.99

IMA

577

139

0.94

ARCHIE & FRIENDS TP VOL 03 CARTOON LIFE CHUCK CLAYTON

$9.95

ARC

576

140

0.94

ALICE I/T COUNTRY OF HEARTS GN VOL 02

$10.99

TOK

574

141

0.94

SKIM GN

$12.95

PUB

574

142

0.93

Y THE LAST MAN TP VOL 02 CYCLES (MR)

$12.99

DC

570

143

0.91

LUKE CAGE NOIR PREM HC

$19.99

MAR

559

144

0.91

HIGURASHI WHEN THEY CRY GN VOL 06 (MR)

$10.99

HAC

556

145

0.91

RESISTANCE TP

$19.99

DC

555

146

0.90

SMILE SC

$10.99

SCH

551

147

0.90

HOW TO CAPTURE A MARTINI GN (MR)

$12.95

DIG

549

148

0.89

BLACK BIRD GN VOL 03

$9.99

VIZ

547

149

0.89

ALAZARS FETISH FANTASIES TP (MR)

$9.95

SQP

545

150

0.88

CROGANS MARCH HC

$14.95

ONI

541

151

0.88

LOSERS VOLUME 1 AND 2 TP (MR)

$19.99

DC

537

152

0.87

9TH SLEEP GN

$12.95

DIG

536

153

0.87

BATMAN DARK KNIGHT RETURNS TP

$14.99

DC

534

154

0.86

FABLES TP VOL 03 STORYBOOK LOVE (MR)

$14.99

DC

530

155

0.86

WALKING DEAD TP VOL 05 BEST DEFENSE (NEW PTG)

$14.99

IMA

529

156

0.86

GUNDAM 00 GN VOL 03

$10.99

BAN

527

157

0.86

SANDMAN TP VOL 01 PRELUDES & NOCTURNES

$19.99

DC

527

158

0.85

REVERSIBLE GN VOL 01

$13.95

DIG

524

159

0.85

X-MEN TP MESSIAH COMPLEX

$29.99

MAR

522

160

0.85

CIVIL WAR TP

$24.99

MAR

521

161

0.84

GAKUEN ALICE GN VOL 10 (OF 16)

$10.99

TOK

515

162

0.84

MARIA HOLIC GN VOL 03 (OF 3) (MR)

$10.99

TOK

512

163

0.84

TARZAN THE JESSE MARSH YEARS HC VOL 05

$49.99

DAR

512

164

0.83

SCOTT PILGRIM GN VOL 01 SP PRECIOUS LITTLE LIFE (MAY042851)

$11.95

ONI

510

165

0.82

HICKSVILLE DEFINITIVE ED GN (MR)

$19.95

DRA

505

166

0.81

FABLES TP VOL 12 THE DARK AGES (MR)

$17.99

DC

495

167

0.80

HIGH SCHOOL DEBUT GN VOL 13

$9.99

VIZ

493

168

0.80

WALKING DEAD TP VOL 08 MADE TO SUFFER (MR)

$14.99

IMA

489

169

0.78

WALKING DEAD TP VOL 06 SORROWFUL LIFE (MR)

$12.99

IMA

478

170

0.78

YU GI OH GX GN VOL 04

$9.99

VIZ

477

171

0.77

HANAKO & TERROR OF ALLEGORY GN VOL 01

$10.99

TOK

474

172

0.77

IKIGAMI ULTIMATE LIMIT GN VOL 04 (MR)

$12.99

VIZ

474

173

0.77

OTOMEN GN VOL 05

$9.99

VIZ

470

174

0.77

ARKHAM ASYLUM ANNIVERSARY ED SC (MR)

$17.99

DC

469

175

0.75

GREEN LANTERN REBIRTH TP

$14.99

DC

461

176

0.75

BATMAN HUSH COMPLETE TP

$24.99

DC

458

177

0.75

BLOOD HONEY GN

$14.99

TOK

457

178

0.75

WALKING DEAD TP VOL 07 THE CALM BEFORE (MR)

$12.99

IMA

457

179

0.74

EYESHIELD 21 TP VOL 30

$9.99

VIZ

455

180

0.74

BEAST MASTER GN VOL 02 (OF 2)

$9.99

VIZ

451

181

0.73

GREEN LANTERN SINESTRO CORPS WAR TP VOL 02

$14.99

DC

449

182

0.73

SHAKUGAN NO SHANA TP VOL 05

$9.99

VIZ

448

183

0.73

BATMAN THE LONG HALLOWEEN TP

$19.99

DC

447

184

0.73

Y THE LAST MAN TP VOL 03 ONE SMALL STEP (MR)

$12.99

DC

447

185

0.73

ULTIMATUM TP

$19.99

MAR

446

186

0.72

IRREDEEMABLE TP VOL 01

$9.99

BOO

444

187

0.72

IRREDEEMABLE TP VOL 02

$16.99

BOO

444

188

0.72

V FOR VENDETTA TP (MR)

$19.99

DC

443

189

0.72

Y THE LAST MAN TP VOL 05 RING OF TRUTH (MR)

$14.99

DC

441

190

0.71

100 BULLETS TP VOL 01 FIRST SHOT LAST CALL

$9.99

DC

438

191

0.71

PREACHER TP VOL 02 UNTIL THE END OF THE WORLD NEW EDITION (M

$14.99

DC

436

192

0.71

ALL STAR SUPERMAN TP VOL 01

$12.99

DC

433

193

0.70

BENNY AND PENNY JUST PRETEND SC

$4.99

RAW

431

194

0.70

MEANWHILE PICK ANY PATH 3856 STORY POSSIBILITIES

$15.95

ABR

427

195

0.70

RECORD OF A FALLEN VAMPIRE GN VOL 08

$9.99

VIZ

427

196

0.70

Y THE LAST MAN TP VOL 04 SAFEWORD (MR)

$12.99

DC

426

197

0.69

SCALPED TP VOL 01 INDIAN COUNTRY (MR)

$9.99

DC

425

198

0.69

FABLES TP VOL 04 MARCH OF THE WOODEN SOLDIERS (MR)

$17.99

DC

421

199

0.69

TAIMASHIN RED SPIDER EXORCIST GN VOL 01

$9.95

DIG

420

200

0.68

OBEDIENT ONE (A)

$19.95

ICA

419

201

0.68

TRANSMETROPOLITAN TP VOL 01 BACK ON THE STREET (MR)

$14.99

DC

418

202

0.68

BOKURANO OURS GN VOL 01

$12.99

VIZ

415

203

0.67

PANIC X PANIC GN VOL 01

$10.99

RAN

411

204

0.66

JACK STAFF TP VOL 04 ROCKY REALITIES

$17.99

IMA

407

205

0.66

SANDMAN TP VOL 02 THE DOLLS HOUSE

$19.99

DC

407

206

0.66

FUTURE DIARY GN VOL 05 (OF 6) (MR)

$10.99

TOK

404

207

0.66

BATMAN YEAR ONE DELUXE SC

$14.99

DC

402

208

0.65

KING SPECIAL EDITION HC

$34.99

FAN

401

209

0.65

LITTLE BUTTERFLY OMNIBUS ED GN (MR)

$29.95

DIG

399

210

0.65

DEADPOOL TP VOL 01 SECRET INVASION

$14.99

MAR

398

211

0.65

FROM THE ASHES TP VOL 01

$19.99

IDE

398

212

0.65

RAMPAGE VOL 01 (MR)

$12.99

DC

397

213

0.65

Y THE LAST MAN TP VOL 06 GIRL ON GIRL (MR)

$12.99

DC

396

214

0.64

Y THE LAST MAN TP VOL 10 WHYS AND WHEREFORES (MR)

$14.99

DC

394

215

0.63

REQUIEM TP VOL 02 VAMPIRE KNIGHT

$19.95

HEA

389

216

0.63

STAR COMICS TP ALL-STAR COLLECTION GN VOL 02

$19.99

MAR

389

217

0.63

SERENITY ROSE TP VOL 02 GOODBYE CRESTFALLEN

$19.95

SLA

387

218

0.63

INVINCIBLE IRON MAN TP VOL 02 WORLDS MOST WANTED

$14.99

MAR

385

219

0.62

WALT DISNEYS VALENTINES CLASSICS HC VOL 01

$24.99

BOO

383

220

0.62

BTVS SEASON 8 TP VOL 01 LONG WAY HOME

$15.99

DAR

381

221

0.62

45 (FORTY FIVE) GN

$17.99

DIA

380

222

0.62

SILVER DIAMOND GN VOL 05 (OF 10) TIES THAT BIND

$10.99

TOK

380

223

0.62

THOR BY J MICHAEL STRACZYNSKI TP VOL 01

$14.99

MAR

380

224

0.62

CROWN OF LOVE GN VOL 01

$9.99

VIZ

379

225

0.62

Y THE LAST MAN TP VOL 07 PAPER DOLLS (MR)

$14.99

DC

378

226

0.62

JORMUNGAND GN VOL 02 (MR)

$12.99

VIZ

377

227

0.61

HULK TP PLANET HULK

$34.99

MAR

375

228

0.61

DMZ TP VOL 01 ON THE GROUND (MR)

$9.99

DC

374

229

0.61

AMELIA RULES S&S ED TP VOL 03 SUPERHEROES

$10.99

POC

373

230

0.61

SUPER ZOMBIES HC OVERSIZED

$19.99

DYN

373

231

0.61

Y THE LAST MAN TP VOL 08 KIMONO DRAGONS (MR)

$14.99

DC

373

232

0.61

EX MACHINA TP VOL 08 DIRTY TRICKS (MR)

$12.99

DC

372

233

0.61

JOKER HC

$19.99

DC

372

234

0.60

FINAL CRISIS HC

$29.99

DC

369

235

0.60

BATMAN THE KILLING JOKE SPECIAL ED HC

$17.99

DC

366

236

0.60

FABLES TP VOL 05 THE MEAN SEASONS (MR)

$14.99

DC

365

237

0.59

FABLES TP VOL 06 HOMELANDS (MR)

$14.99

DC

364

238

0.59

KING AROO HC VOL 01

$39.99

IDE

362

239

0.59

PEACE MAKER KUROGANE GN VOL 03 (OF 5) (MR)

$10.99

TOK

360

240

0.58

BOYS TP VOL 04 WE GOTTA GO NOW (MR)

$19.99

DYN

358

241

0.58

WIZARDS OF MICKEY HC VOL 01 MOUSE MAGIC

$24.99

BOO

358

242

0.58

PREACHER TP VOL 03 PROUD AMERICANS NEW EDITION (MR)

$14.99

DC

357

243

0.58

THOR BY J MICHAEL STRACZYNSKI PREM HC VOL 03

$19.99

MAR

357

244

0.58

Y THE LAST MAN TP VOL 09 MOTHERLAND (MR)

$14.99

DC

357

245

0.58

INVINCIBLE IRON MAN TP VOL 01 FIVE NIGHTMARES

$19.99

MAR

353

246

0.57

UMBRELLA ACADEMY TP VOL 01 APOCALYPSE SUITE

$17.95

DAR

352

247

0.57

HOWARD LOVECRAFT & FROZEN KINGDOM GN

$12.95

AST

351

248

0.57

BALLAD OF A SHINIGAMI VOL 03

$9.99

DC

350

249

0.57

KINGDOM COME TP NEW EDITION

$17.99

DC

350

250

0.57

FABLES TP VOL 11 WAR AND PIECES (MR)

$17.99

DC

347

251

0.56

INU YASHA VIZBIG ED GN VOL 02

$17.99

VIZ

344

252

0.56

IGNITION CITY HC VOL 01 (MR)

$27.99

AVA

343

253

0.56

THOR BY J MICHAEL STRACZYNSKI TP VOL 02

$19.99

MAR

343

254

0.56

BATMAN RIP DELUXE EDITION HC

$24.99

DC

342

255

0.56

ONE PIECE TP VOL 26

$9.99

VIZ

342

256

0.55

SHINOBI LIFE GN VOL 04 (OF 5)

$10.99

TOK

340

257

0.55

WATCHMEN HC

$39.99

DC

340

258

0.55

ONE PIECE TP VOL 28

$9.99

VIZ

339

259

0.55

FABLES TP VOL 08 WOLVES (MR)

$17.99

DC

337

260

0.55

WONDERFUL WIZARD OZ HC

$29.99

MAR

336

261

0.55

INCOGNITO TP (MR)

$18.99

MAR

335

262