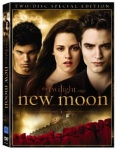 This is one of the biggest DVD release weeks of the year so far with New Moon, the latest installment in the Twilight Saga, which has a chance to be the #1 DVD of the year debuting on Friday. But there are lots of other interesting releases including the Academy Award-nominated The Princess and the Frog, the CGI Astro Boy film, some excellent TV on DVD sets including Breaking Bad, South Park, The Ruth Rendell Mysteries Collection, and the final season of Monk.
Theatrical
The big news this week is the Saturday release of The Twilight Saga: New Moon (Summit Entertainment, "PG-13," Two-Disc Special Edition $32.99, BD $34.99). The first Twilight film, which was released in March of 2009 was the #1 DVD of the year with over 10 million copies sold here in the U.S., and there is little doubt that New Moon, which posted a 35% increase at the domestic box office over the first film ($296 million versus $192 million), should do at least as well on DVD. Though the DVD doesn't come out until midnight Friday, the Twilight Graphic Novel debuts on Tuesday and should benefit from the DVD release.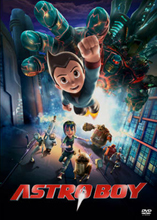 Although it didn't win the Academy Award for "Best Animated Feature," Disney's
The Princess and the Frog
(Disney, "G" $29.99, BD $44.99) marked a successful return not only to classic hand-drawn two-dimensional animation, but also to the kind of animated musical that Disney perfected with
The Little Mermaid, The Lion King
and
Beauty and the Beast
.
The Princess and the Frog
has in fact arguably the finest score of any Disney feature in the last 50 years thanks to Randy Newman, who hits all the right roots music notes (ragtime, zydeco, funk, Cajun, Dixieland, etc.) in this film tribute to the culture of New Orleans.
The whole Disney "Princess" thing is a bit much, but at least the studio finally got around to creating a black Princess and managed to give her a pretty good narrative in the process. With its voodoo spirit conjuring this film might be a little too scary for some kids under seven, but it should hold the attention of older kids and adults with its mixture of human and often very funny animal characters. Had The Princess and the Frog not faced formidable competition from Pixar's Up, which was quite simply so original in concept and so brilliantly realized, it might well have won the Oscar. Thanks to Newman's music and a brilliant cast of voice actors including Anika Noni Rose (Tiana), Keith David (Dr. Facilier), Oprah Winfrey (Tiana's mother), John Goodman (Big Daddy), Jenifer Lewis, (Mama Odie) and especially Michael-Leon Wooley as a trumpet-playing gator) and Jim Cummings (as a lovesick Cajun firefly), in future years The Princess and the Frog should take its place as one of the classics of Disney animation.
The film looks simply stunning in Blu-ray with the characteristic fluid, character-rich Disney animation and evocative, well-realized New Orleans and bayou swamp backgrounds. Extras include features on the music used in the film and on the way in which actors and dancers were photographed against a grid as a guide for the animators in a process that is far subtler than rotoscoping and produces more fluid animation than the computerized motion capture method that is all the rage in Hollywood today. The Blu-ray also includes a regular DVD, which is a great bonus for families who can utilize the standard DVD in cars and personal DVD players.
A genre film of interest due out this week is Armored (Sony, "PG-13," $28.96, BD $38.96) an armored car heist movie directed by Nimrod Antal. Fans interested in seeing what the upcoming Antal-helmed Predators movie might look like will want to take a look at Armored to check out the young action director's gritty, fast-paced, but classic style.
Martial arts fans should enjoy Ninja Assassin (Warner Home Entertainment, "R," $28.98, BD $35.99), which stars the Korean pop star Rain in an action-packed bloodbath of movie that moves like a runaway freight train and earned $38.7 million at the box office.
Another genre release this week is High Life (Image Entertainment, Not Rated, $27.98), a direct-to-DVD bank heist movie that stars Timothy Olyphant as the leader of a motley crew of drug-addled losers searching for that one big score.
The Fourth Wall (Universal, "PG-13," $29.98, BD $36.98) is an alien abduction flick that takes a "clinical, scientific" approach to the subject that most critics found hokey and contrived. The film earned only about $25 million at the box office and received just an 18% approval rating from review aggregator Rotten Tomatoes.
Even less interesting is Did You Hear About the Morgans? (Sony, PG-13," $28.95, BD $34.95), a fish-out-of-water comedy about a sophisticated urban couple (Hugh Grant and Sarah Jessica Parker) who are relocated to Wyoming thanks to the Witness Protection Program.
Anime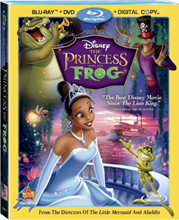 Even though
Astro Boy
(Summit Entertainment, $26.99, "PG," BD $34.99) is the product of the now defunct Imagi Studio from Hong Kong, the property was created by Osamu Tezuka, the founder of modern manga and anime, so to consider it in any other category would be some sort of a sacrilege, which of course is what some purists consider this film to be.
Thanks to a wide release, which was backed by a considerable TV advertising campaign,
Astro Boy
outearned
Miyazaki
's
Ponyo
at the box office, bringing in some $19.5 million to $15 million for
Ponyo
.
Still the sales on DVDs could be a different story, though once again the
Astro Boy
DVD should benefit from a recent round of TV advertising during Saturday morning cartoons.
It should be interesting to see which of these two films turns out to be the bestselling anime release of 2010.
Although Astro Boy was a costly flop, in large part because it failed to attract big audiences in both Japan and the U.S., the film is not as bad as its studio-killing box office performance might lead one to believe. The art deco design of the floating "Metro City" where the action takes place is quite good and large elements of Tezuka's narrative remain in the film including the death of a small child and the rejection of Astro Boy by his creator/father, two plot points that might be upsetting to younger children.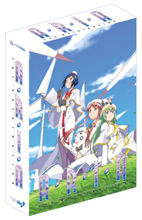 A much more stately-paced and decidedly different sort of anime,
Aria: The Origination and Arietta
(Right Stuf/Nozumi, 430 min., $49.99) is also due out this week.
Aria: The Origination
is actually the 13-episode third season of this science fiction series that aired in Japan in 2008 and Right Stuff has also included the 2007
OVA Arietta
and the bonus episode from the third season.
Based on Kozue Amano's manga (now published here by Tokyopop), all three seasons of the
Aria
anime were directed by Jun'ichi Sato (
Sailor Moon, Sgt. Frog
).
The three comely protagonists of this science fiction series are often seen gliding their gondola through the canals of Neo-Venezia, a spot-on replica of
Venice
that has been created on a terra-formed Mars in the 24th Century.
The beautifully rendered backgrounds take full advantage of the glories of Venetian architecture and make this calm, slice-of-life saga one of the most beautiful anime series of recent years.
Special mention should be made of the series' exceptional soundtrack—and not just the wonderfully apt music—the very "musical" inflections of the Japanese voice actors come though undiminished in this subtitled-only version.
Funimation is continuing to release selected series in the anime-friendly Blu-ray format. This week it is Gunslinger Girl: Il Teatrino Collection (320 min., $49.98), the second season of the anime, which was produced by Artland with the full cooperation and involvement of Gunslinger Girls manga creator Yu Aida.
Funimation is also releasing the D&D-influenced Slayers Revolution (13+, 300 min., $59.98), a 13-episode series directed by Takashi Watanabe and produced by J.C. Staff in 2008, and One Piece: Season 2, Part 6 (14+, 320 min. $49.98), the latest installment in the rollicking pirate saga that is arguably the most popular manga/anime property in Japan.
Other multiple-disc releases include the debut of Tayutama: Kiss on My Deity Complete Collection (Sentai Filmworks, "13+," 300 min., $39.98), a 13-episode 2009 anime from Silver Light about a high school boy who disregards the warnings of a love struck goddess and allows a bunch of spirits ("tayuti") to escape from an ancient relic he finds in the woods. Media Blasters has the Genshiken 2 Premium Complete Collection ("13+," 300 min., $69.99), which collects the often hilarious otaku satire, while Viz Media is releasing Honey and Clover: Complete Collection Part 3, the third and final multi-disc collection of the 38-episode Honey and Clover anime from J.C. Staff based on Chica Umino's popular comedy/romance manga about a disparate group of art school students.
TV on DVD
This is a big week for TV on DVD releases with some great series from the U.K. along with three Blu-ray releases (always the sign of a major series these days) including the first two seasons of Breaking Bad, the Complete 13th Season of South Park (Comedy Central, 308 min., $49.99, BD $57.99), and the extremely relevant History Channel series Clash of the Gods.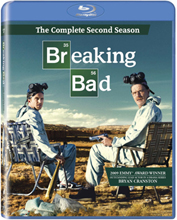 Breaking Bad: The Complete Season 2
(Sony, 615 min., $39.95, BD $49.95) is debuting on both Blu-ray and regular DVD, while
Season One
, which came out last year in the standard format, is now also available on Blu-ray.
Breaking Bad
, which is seen on the cable channel AMC, is the most harrowing series on American TV since
The Wire
.
Like
The Wire
drugs are the basis for the criminal activity in
Breaking Bad
, though it is crystal meth rather than crack cocaine in this drama set in middle class
Albuquerque, New Mexico
where high school chemistry teacher Walter White learns that he has terminal lung cancer.
White, who is played by Bryan Cranston who portrayed Malcolm's father in
Malcolm in the Middle
, decides to make enough money producing meth to allow his family to prosper after his death.
Of course this sort of deal with the devil (and crystal meth is one devil of a bad drug) never goes well.
In
Season 2
White and his former student and sidekick Jesse have to deal with the psychopathic drug dealer Tuco, who beats one of his minions to death in front of them in the season-opening episode.
Suffice it to say that White and Jesse face many more demons in season two, which ends with a particularly powerful (and horrifying) twist.
With the remake of Clash of the Titans debuting in early April, and probably more importantly, with the success of the movie version of the Y.A. Percy Jackson and the Olympians novels, interest in Greek mythology is high. Here's a release that will flesh out anyone's knowledge of some of the key myths of the ancient world--the History Channel's Clash of the Gods (A&E Home Entertainment, 470 min., BD $39.95). Issued last month on standard DVD, it is now available in a 2-disc Blu-ray package that covers the sagas of Zeus, Hercules, Minotaur, Medusa, Odysseus, and Hades as well a few non-members of the Greek Pantheon including Beowulf, Thor, and the monsters of J.R.R. Tolkien.
Not every big release this week is on Blu-ray. There's a new 4-disc set from the ultimate cult TV show, Mystery Science Fiction Theater 3000 XVII (Shout Factory, 400 min., $59.97), which features two cheesy movies hosted by Joel Hodgson from the Comedy Channel/Comedy Central era and two with Mike Nelson from the Sci-Fi Channel period. What's funnier than a running commentary on schlocky movies? Don't answer till you've seen the boys deconstruct The Crawling Eye (1958), The Final Sacrifice (1990), Blood Waters of Doctor Z (1975), and The Beatniks (with a General Hospital short).
The eighth and final season of the comedy mystery series Monk: Season 8 (Universal, 500 min., $59.98) was one of the best, thanks in part to the return of the defective detective's original sidekick Sharona, and a powerful two-part final episode that tied up the series' loose ends and featured a great Randy Newman song that was written for the finale's closing.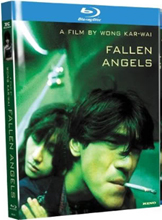 Murder of a more serious sort is at the heart of the
Ruth Rendell Mysteries Collection
(Acorn Media, 1740 min., $99.99), an 11-disc boxset collection of 17 television productions based on the novels of Dame Ruth Rendell whose specialty is the psychological murder mystery.
A bevy of top actors from the
U.K.
including Colin Firth, James Collis, Amanda Redman, James D'Arcy, and Honeysuckle Weeks provide chilling performances in these sagas of damaged people that should be called "Whydunits" rather than "Whodunits."
Typical of the set is
Master of the Moor
, which stars Firth as a troubled moor-obsessed husband who writes a nature column for the local paper and works with his embittered father in a furniture refurbishing shop.
He discovers the body of a woman murdered on the moor and is slowly sucked into a vortex of tragedy.
There's something very Shakespearean about Rendell's flawed characters who are undone by their own weaknesses.
This is a set of mysteries for those who appreciate great performances and acute psychological insights.
The murder mysteries included in Armchair Thriller: Set 2 (Acorn Media, 547 min., $49.99) were shown in this country on PBS's Mystery! Like the Ruth Rendell Collection, the emphasis here is on psychological mysteries with solid performances from actors like Michael Feast and Maria Aitken.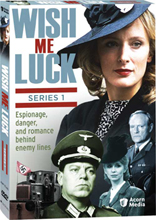 Wish Me Luck Series 1
(Acorn Media, 195 min.,$39.98), another series from the
U.K.
that features great performances, is the story of two very different women who volunteer to slip into occupied
France
during World War II.
The two women come from very different strata of English society.
Matty is a half-French cockney who is emotional, voluble, and prone to a kind of carelessness that could spell doom, while Liz Grainger is a member of the aristocracy who has friends among the French upper classes and leaves a young daughter behind to undertake a very dangerous mission.
The French underground is riven by disputes between communist and non-communist factions and German Army officer in charge of the key French coastal district is both intelligent and ruthless.
The suspense builds steadily in this white knuckle espionage saga, which is extremely well-acted and realistic.
This historically accurate series aired on public TV in the
U.S.
in the 1990s, but has never been available on DVD here before.
For those who admire British TV that doesn't revolve around murder or war, there is My Uncle Silas: Complete Collection (BFS, 288 min. $59.98), a series based on H.E. Bates stories that stars Albert Finney as a rough and ready Midlands farmer.
Animated TV shows out this week include The Adventures of Sonic the Hedgehog: Vol.3 (Shout Factory, 440 min., $29.99), a 4-disc collection that contains 22 episodes and the single-disc Spongebob's Last Stand (Nickelodeon, 89 min., $16.99).
Continuing series with new sets appearing include Hawaii Five-O: The 8th Season (Paramount, 1000 min., $49.99), My Two Dads (Shout Factory, 370 min., $34.99), and for fans of very early television there is The Ultimate Goldbergs (Shout Factory, $59.99), which includes 71 episodes from the radio serial turned TV show that aired intermittently in mostly 15-minute segments on various networks from 1949 to 1956.
Foreign Films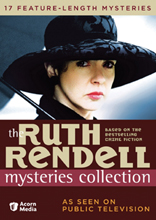 Wong Kar-Wai's
Fallen Angels
is a cutting edge 1995
Hong Kong
film about a hitman that blends balletic violence, bravura technique, and beautiful actors into a bewitching cinematic brew.
Christopher Doyle's camera snakes relentlessly through the neon-lit streets of
Hong Kong
and the low-ceilinged tunnels of its subway system as Wai makes use of wide angle lens and hand-held cameras to depict the bleak lives of his alienated characters who just might be falling in love.
Kino's new Blu-ray transfer shows off the garish, fluorescent-lit nocturnal urban jungle to great effect.
Although it is much more avant garde in technique than most films in its genre,
Fallen Angels
is a must for those who love Hong Kong gangster films, though some viewers may not care for its visual poetry and find it simply unendurable.
Another treat for cineastes is Pedro Almodovar's Broken Embraces (Sony, "R," $28.96, BD $34.95), a wonderful film noir-like melodrama involving a movie director who falls in love with a beautiful starlet (Penelope Cruz), who just happens to be the mistress of a very rich, powerful, and jealous man.
Classic Films Debuting on DVD
Kino is releasing The Constance Talmadge Collection Double Feature ($29.95), which includes two silent films, Her Night of Romance (1924) and Her Sister From Paris (1925). Although not as popular as her sister Norma, Constance Talmadge was a superb comedienne as these two films demonstrate. Both films were written by Hans Kraly, who is known for his work with Ernst Lubitsch and they demonstrate some of the clever touches that were the hallmark of Lubitsch's American films. These films are examples of the "drawing room" comedies of the silent era. They rely much more on "situations" rather than slapstick. Talmadge, whose on screen persona lived up to her billing as the "Virtuous Vamp," excelled at breaking the bounds of propriety without actually getting in trouble. The prints come from the Library of Congress's National Audio-Visual Conservation Center. In spite of a few blemishes they look quite good, and Kino has done an excellent job in providing appropriate scores. Silent movie lovers will surely enjoy this double feature and look forward to more releases from the LOC's Conservation Center.