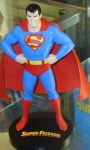 Alone among comic publishers DC Comics has figured out how to do an extensive line of collector-oriented toys, statues, busts, plates, and props -- and do them all in-house. For 2003 DC Direct has created another line aimed at the sophisticated collector who knows the difference between 'Silver Age' and 'Golden Age.' But DC Direct is moving beyond just comic book fans with offerings that feature Justice League Animated and Super Friends versions of the DC heroes that should have a strong appeal to animation aficionados. DC Direct has also added some non-DC items including a T.H.U.N.D.E.R. Agents Dynamo Statue, which conveniently coincides with DC's editorial revival of T.H.U.N.D.E.R. Agents.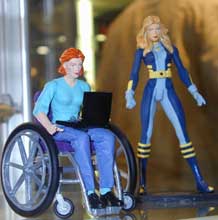 Among the most interesting offerings for 2003 are a deluxe set of Birds of Prey Action Figures slated for a February, 2003 release. Of course Birds of Prey is the new WB TV series from the producers of Smallville (see 'Birds of Prey Bows On WB'). DC Direct's Smallville Action Figures are due out in October of this year, so the early debut of the Birds of Prey Action Figures signifies the increased confidence DC Direct has in the fan-building potential of the weekly TV series. Other new action figure offerings include Silver Age Batman & Robin (February), three Green Lantern figures (also February), five Legion of Superhero figures (January), more animation-derived Super Friends figures (April), as well as DC Direct's first series of modern age Superman figures (March & June).
DC Direct's line also includes lots of resins -- busts, statues, bookends, and maquettes as well as a second series of Pocket Super Heroes, a superb Joker Marionette, and a Superman Wall Scroll by Ed McGuiness.