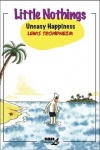 Little Nothings Volume 3: Uneasy Happiness TP
Publisher: NBM/ComicsLit
Release Date: March 2010
Price: $14.95
Creator: Lewis Trondheim
Format: 127 pgs.; Full-Color
ISBN: 978-1-56163-576-4
Age Rating: Teen/Adult
ICv2 Rating: 3 Stars out of 5
Ranging from comedic children's comics to a
D&D
fantasy comics series, Trondheim's skills encompasses a variety of genres and audiences. His autobiographical musings in
Little Nothings
are reprinted from his blog comic. Taking everyday life situations, such as a mouse in the house, vacationing in Italy, or a conversation with his son, he makes the scene relevant to all of us. This book can be read without knowledge of volumes 1 or 2, and due to its non-episodic nature, it can be read mostly non-sequentially.
The comics are primarily single page, four panel comics with the exception of the story of the mouse and his trip to Fiji. Trondheim and his associates appear as anthropomorphic animals. The panels do not have black lines boxing off the artwork. Instead, Trondheim tapers off the artwork in circular shapes giving it an unfinished rough appearance.
While this piece won't have the readership of
Tiny Tyrant
or
Dungeon
, it is a solidly entertaining look at the life of an artist. Fans of his other work may find this an interesting piece of slice of life graphic novels. This volume is at home with other literary adult graphic novels.
--
Kristin Fletcher-Spear: Teen librarian at the Foothills Branch Library in Glendale, Arizona.