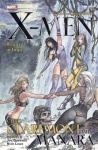 A bevy of new "Number Ones" were revealed at the "X-Men Panel" at C2E2. The long-awaited Chris Claremont/Milo Manara X-Women one-shot ships in July just as Victor Gischler and Paco Medina are launching a new X-Men #1 with a "Mutants vs. Vampires" story arc, followed by the debut of Clarmont's New Mutants Forever series in August.
The end of Wolverine: Weapon X will be followed in September by a new Wolverine #1 written by Jason Aaron who sends Wolvie's soul to Hell.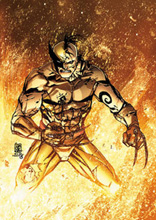 September is also when
Dark Wolverine
becomes
Daken: Dark Wolverine
launching with yet another #1 issue.
It appears that the dark saga of Wolvie's evil spawn will provide a grim contrast with the general positive tenor of Marvel's Heroic Age.
Marjorie Liu who will stay on the new
Daken: Dark Wolverine
title, will also write a new X-series,
X-23
, which also launches with a #1 issue in September.
X-Force will end after the events of the Second Coming only to be re-launched in October in a new series written by Rick Remender.
Marvel's Arune Singh pointed out that after the conclusion of the Second Coming event, the X-Men will become more closely integrated into the Marvel Universe than they have been in years, which explains the presence of Spider-Man and She-Hulk in the X-Men teaser images issued last week.