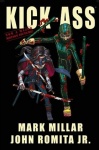 Mark Millar's Kick-Ass HC, from Marvel, was the #1 adult graphic novel in bookstores in April behind interest generated by the release of the movie at mid-month. The title was also #3 in March (see "Kick-Ass #3") in the run-up to the movie, over-all a very strong performance for a title tied to a relatively modest movie by superhero standards.
Kick-Ass easily bested The Losers, the other movie tie-in title in April, which was on the list at #15. The Losers movie opened with about half the box office of Kick-Ass, and the graphic novel couldn't even muster enough sales to top Watchmen, tied to a movie that released a year ago.


BookScan Top 20 Graphic Novels in April 2010

Rank

Title

Author

Publisher

1

KICK-ASS HC

MARK MILLAR

MARVEL COMICS

2

ROSARIO+VAMPIRE SEASON II VOL. 1

AKIHISA IKEDA

VIZ MEDIA

3

NARUTO VOL. 47

MASASHI KISHIMOTO

VIZ MEDIA

4

BATMAN & ROBIN VOL. 1 BATMAN REBORN HC

GRANT MORRISON

DC COMICS

5

YOTSUBASA&! VOL. 8

KIYOHIKO AZUMA

YEN PRESS

6

YU-GI-OH! R VOL. 4

AKIRA ITO

VIZ MEDIA

7

THE GENTLEMEN'S ALLINACE + Vol. 11

ARINA TANEMURA

VIZ MEDIA

8

THE SIMPSONS FUTURAMA CROSSOVER CRISIS

MATT GROENING

ABRAMS

9

BUFFY THE VAMPIRE SLAYER SEASON 8 VOL. 8

JANE ESPENSON

DARK HORSE

10

SCOTT PILGRIM VOL. 1

BRYAN LEE O'MALLEY

ONI PRESS

11

BLEACH VOL. 30

TITE KUBO

VIZ MEDIA

12

VAMPIRE KNIGHT VOL. 9

MATSURI HINO

VIZ MEDIA

13

BLACK BUTLER VOL. 1

YANA TOBOSO

YEN PRESS

14

WATCHMEN TP

ALAN MOORE

DC COMICS

15

THE LOSERS BOOK ONE

ANDY DIGGLE

VERTIGO

16

MAXIMUM RIDE: THE MANGA VOL. 2

JAMES PATTERSON

YEN PRESS

17

ONE PIECE VOL. 41

EIICHIRO ODA

VIZ MEDIA

18

ONE PIECE VOL. 43

EIICHIRO ODA

VIZ MEDIA

19

SOUL EATER VOL. 2

ATSUSHI OHKUBO

YEN PRESS

20

ONE PIECE VOL. 40

EIICHIRO ODA

VIZ MEDIA
A third movie-related title, the first Scott Pilgrim volume, hit the charts at #10 in the run-up to the August release of the movie. This is a very early point for sales this strong, indicating that Scott Pilgrim may be another movie that moves a lot of graphic novels.
Viz had the top manga with Rosario+Vampire at #2, and held the most slots of any publisher in April, with nine. Yen Press was second, with four of the top twenty titles. DC had three, and four companies, Marvel, Abrams, Dark Horse, and Oni Press, had one each.
American titles had an unusually strong month in April, with five of the top ten titles.
The rankings, provided by Nielsen BookScan, track the bestselling U.S. adult graphic novels in major book chains, mass merchants, online retailers, and some independent retailers using POS data from April 4th to May 2nd. Titles racked in the Kids or YA sections do not appear in this list.
For charts from other months, see the "BookScan Top 20 GNs Index."