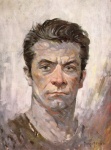 Frank Frazetta, famed comic artist and illustrator, passed away Monday in Fort Myers, Florida of complications from a stroke. He was 82. His influence on pop culture was enormous, with a body of work that spanned multiple media.
Early in his career he was a comic artist, doing work for EC, among others, with his friend Al Williamson.
Frazetta also worked on newspaper strips, including Al Capp's Li'l Abner, Dan Barry's Flash Gordon, and his own Johnny Comet.
His movie posters included posters for What's New Pussycat, The Fearless Vampire Killers, The Night They Raided Minsky's, and others.
Frazetta collaborated with Ralph Bakshi on the feature film Fire and Ice, which was released in 1983.
And Frazetta's art was used for album covers, including three by Molly Hatchet.
But it was as an illustrator for book covers where Frazetta found his greatest fame. His cover illustrations for Conan, Tarzan and John Carter of Mars novels influenced multiple generations of artists to follow. That influence was not confined to artists working in book illustration, comics, and other related media; Frazetta-influenced illustrations also were used for tattoos, motorcycle tanks, t-shirts, and in hundreds of other venues major and minor.
Frazetta was preceded in death by his wife Ellie, in 2009.
Many of Frazetta's paintings are still in the possession of the family, at a museum in Pocono, New York. The art was the subject of a bitter dispute among family members, which was settled last month (see "Frazetta Art Dispute Settled"). It involved the removal of $20 million worth of art from the museum by one of the sons using a backhoe (see "$20 Million Frazetta Heist"), litigation, and criminal charges. In the settlement, the family pledged to work together to promote Frazetta's images in the future; all charges and litigation were dropped.