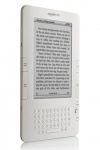 E-book sales expanded at a torrid pace in Q1, according to information compiled by the American Association of Publishers: sales were up over 250% from the same period in 2009. The total e-book sales for Q1 were over $89 million.
A number of factors are driving the growth in digital book sales, including continued expansion of the readers in consumers' hands, a greater variety of readers, offering consumers more options, and increasing acceptance of reading on screens.
Total book sales of all types (including print) reported by the association were up around 8% for the first quarter.