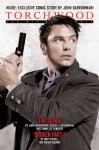 Titan Publishing will launch a comic series based on BBC's Torchwood in August, with two original stories. "Captain Jack and the Selkie" is by John Barrowman (Torchwood's Captain Jack) and his sister Carol E. Barrowman, with art by Tommy Lee Edwards, who's working with Jonathon Ross on Image's Turf.
"Broken," part one of a five-part story, is written by Torchwood script editor Gary Russell, with artwork by Adrian Salmon (Doctor Who and Judge Dredd magazines).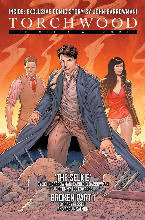 Each issue will ship with two covers: a photo cover and one featuring artwork by comic book artist Ian Churchill.
An alternative cover for #1, also by Churchill, will be exclusively available at this year's San Diego Comic-Con.