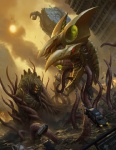 Dreamworks has hired frequent Tim Burton collaborator John August (Charlie and the Chocolate Factory, Big Fish, The Corpse Bride) to adapt Privateer's Monsterpocalypse Collectible Miniatures Game for the big screen. Dreamworks is hoping that Burton, whose Alice in Wonderland has just become the fifth highest-grossing film of all time, will step in as director on the project whose start time is clouded by Burton's commitment to an adaptation of Dark Shadows with Johnny Depp, which was supposed to start shooting at the end of 2010 right after Depp finishes the fourth Pirates of the Caribbean movie.
According to The Hollywood Reporter, Dreamworks is currently negotiating with Burton, and scheduling appears to be the only major hang-up, since the studio is anxious to get Monsterpocalypse underway, and Burton is known for his "typically expansive prep work." Depp is reportedly talking about taking a break after Pirates 4, which would push back the production of Dark Shadows, which complicates the process.
Monsterpocalypse, which features kaiju-inspired monsters stomping all over various cityscapes, appears to be a natural subject for a big 3-D summer blockbuster. Desperado has published a four-issue Monsterpocalypse comic series, and the game's growing fan base recently held the first MonCon convention in May in Tulsa, Oklahoma.