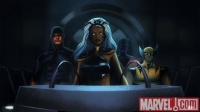 The long-awaited Black Panther: Who Is Black Panther motion comics series, will be launched this week as a 12-episode weekly series on iTunes, Xbox LIVE, Microsoft Zune, and PlayStation Network. The Marvel Knights Animation series, originally produced for BET, has not previously been released in North America, although it was broadcast in Australia (see "Marvel Motion Comics to Be Released on DVD").
Oscar-nominated Djimon Hounsou is voicing the title role (see "Black Panther Finds His Voice"); Jill Scott is Storm; Kerry Washington is Princess Shuri; Alfre Woodard is both Dondi Reese and Queen Mother; Carl Lubly is Uncle S'Yan; and Stan Lee also voices a special role.
Reginald Hudlin and John Romita Jr. created the graphic novel on which the series is based.