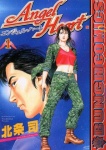 Tsukasa Hojo, the creator of the long-running (32 volumes) seinen manga Angel Heart, told an audience at 11th Annual Impact of Japan Expo in Paris that the Angel Heart manga would continue even after the final August 27th issue of Weekly Comic Bunch, the magazine in which Angel Heart has been appearing since 2001. The complex crime drama was made into a 50-episode anime by TMS that aired in Japan in 2005-2006, but which has, alas, never been released in the U.S.
The French literary news site Actua Litte reports that while the veteran manga-ka Hojo, who also created the popular City Hunter manga, was certain that Angel Heart would continue, he was coy about explaining exactly how, saying that "it will be in a different form," but declining to provide any details.
Just in case anyone gets too caught up in the attendance at the San Diego Comic-Con, which will surely surpass 100,000 again, it should be noted that attendance at the Japan Expo, according to Actua Litte, was over 170,000.