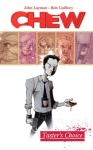 John Layman and Rob Guillory's imaginative and darkly humorous Image Comics series Chew is headed to the small screen courtesy of Circle of Confusion, the company behind AMC's The Walking Dead. Chew, which debuted in 2009, chronicles the crime-fighting abilities of federal agent Tony Chu, a cibopath, who can get a psychic impression from whatever he eats, a faculty that has him solving crimes by nibbling on corpses (or worse).
According to Deadline, Stephen Hopkins, who directed the pilots for 24, Californication, and The Unusuals is on board to direct and executive produce the project. Meanwhile Circle of Confusion is looking for a writer to adapt the comic.
Chew has been hit for Image in the comic market and the two graphic novel collections, Taster's Choice and International Flavor are starting to take off in the bookstore market.