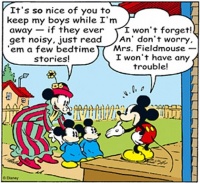 At Comic-Con International Fantagraphics Books announced that it has struck a deal with Disney to publish the complete Mickey Mouse comic strips by Floyd Gottfredson beginning in May 2011, and continuing at a rate of two volumes per year. The retail price of the volumes will be $29.99.
The reproduced size of the strips will be somewhat larger than Fantagraphics' Peanuts collections. "It was an adventure strip," Fantagraphics publisher Gary Groth explained to ICv2. "The strips were more detailed; the artwork was a little more dense, so it needs a little bigger canvas."
"This will be the first time that the Mickey Mouse newspaper strip has ever been reprinted outside of a handful of excerpts," Groth said.
Gottfredson began drawing the iconic strip in 1930 and kept on until he retired in 1975. The daily and Sunday strips were parts of long continuing stories, which were often reprinted or serialized in various Disney comic magazines.
Like Carl Barks, Gottfredson was an animator pressed into "temporary duty" drawing comics, an assignment that turned out to be his life's work—and like Barks did with Donald Duck, Gottfredson deepened and greatly enhanced the Mickey Mouse universe by adding such characters as Mickey's nephews, Morty and Ferdie Fieldmouse, the evil miser Eli Squinch, Chief O'Hara, Detective Casey, and the Phantom Blot.