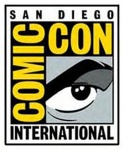 We caught up with Comic-Con International Director of Marketing and Public Relations David Glanzer as the show ended to talk about the 2010 event, including the controversial demonstrators, the stabbing, counterfeit badges, and the possible move of the show.
We know you've been sold out for the last several years--how do you characterize the attendance for this show?
We think at least 125,000; it could be 126,000. We haven't done the count yet. It really depends upon all the people that bought badges and whether they actually showed up. We made some of the badges available for some people that returned them so it's going to be 125-126,000.
It seems like there are a lot more events outside of the Convention Center this week. Can you talk about that and what it does to take the pressure off inside the Center?
We hope it does take some of the pressure off. Some of the aisles were a little more navigable this year--moreso than in previous years. One of the main reasons is because we utilized both the Hilton Bayfront and the Marriott, that had not only programs but events.
One of the things that really changed this year that people probably noticed was the signage on the area buildings. In not all instances, but in most instances we got a very small amount of money for that. Our hope is to be able to sell sponsorships and things of that nature to help our income, because right now we're effectively flat. And that allows us not to have to pass all of those costs onto attendees or exhibitors.
Was this the first year that the Hall H queuing has been outside?
No, it's been outside before, but this is the first year we actually tented it because it had been so hot the week prior, and typically during Comic-Con it can be very warm. As it turns out, it ended up being overcast and a little drizzly, so in either case, I think people were happy with that.
We noticed more light pens this year checking badges, and one security guard told us that there may be more counterfeit badges this year. Can you give us some detail on that?
There are some counterfeit badges this year, but with security on it, they're easily detectible, but one of the things that really bothers us is those badges that are sold on auction sites. We're very diligent about closing those down, but if people have already contacted them, the badge may not be any good, the buyer is completely unaware and then they may have actually bought a badge that wasn't good. In some instances sellers have sold that badge or the bar code numerous times.
There's been a lot of talk about where the convention is going to be in future years. When are you going to make your announcement on that?
I honestly thought we were going to know by June. And then I thought there's no way we wouldn't know by the week before Comic-Con at the latest. Here it is Comic-Con week and I think when the dust settles we'll start poring into it again. I can't imagine it's going to be later than August. I just can't. And the thing is, we don't have a hard deadline, but the truth of the matter is the longer we wait, the more difficult it is for hotels, in whichever city, to keep turning away business for 2013-2015. We don't have a hard deadline, but we need to make a decision soon.
You're here next year for sure.
We are. 2011 and 2012.
So it's really 2013 and beyond.
Exactly.
There was some local press coverage of a booth that had some Nazi imagery. Can you talk about the show policy on that?
Everyone who has adult related material has to let us know that they have adult related material. This instance arose because somebody had said there was Nazi memorabilia or a Nazi model. As we understand it, this particular booth recreates old pulp covers, old movie covers—stuff from the 50s and 60s--and this year they had models who were either in those covers or represented in those covers. I didn't see it, and I haven't heard that they were here this year, but people were concerned that they were going to be. I think there were also models dressed up as other covers as well.
We didn't see them, but we were told that there was someone in a Hitler costume walking the floor.
Well, I didn't see that, but I don't know that there wouldn't be that or a variety of types there.
There were demonstrators and counter-demonstrators outside the convention (the Westboro Baptist Church of Topeka, Kansas, known for demonstrating at military funerals, was there). Did that affect the show at all?
No. There was a group who is notorious for demonstrating at funerals and things of that nature and they chose Comic-Con to demonstrate as well. The city and police put them in a free speech zone. I think they did their thing and were on their way. For the most part, I think people just kind of ignored them. With 126,000 people, it was a small demonstration. I certainly didn't see it—I don't know how many people really did.
There was a scuffle and an injury in Hall H, can you talk about that?
We defer a lot of that to the police. As I understand it, two friends got in an altercation; it happened during a break in Hall H. There was an injury that resulted. Security was there right away. The police followed soon after. Programming stopped for about 40 minutes. The alleged perpetrator was apprehended. After about 30-40 minutes the programs resumed, not on schedule, but they resumed.
One change we've heard proposed is to ticket Hall H to let people know whether they're going to get in or not, to reduce the waiting time and keep people who can't get in from being disappointed. Any thoughts about that?
It's a great question. There are a couple of proposals. One is that we just clear the room each time. The only problem with that is if you line people up for specific panels then we're going to have several different lines. Right now we just don't have the real estate for that even outside of the building.
The other is to go ahead and ticket. The only problem is, when the panel ends there's no way to know how many people are going to leave. Sometimes people get up to go to the rest room or get food and since we don't clear the rooms it's really a difficult thing to gauge. Also if we did clear the rooms, that takes away about a half hour-40 minutes between panels to get everybody out, to get the new people in, and then you would effectively reduce the number of panels you could have in that room. We're still trying to find solutions to the problem. I don't know what that is, but we are working on it.
Any changes in the works for next year?
I don't know. One of the things we did this year was try to handle security in a manner that we hope was more efficient. [We had] a firm that oversaw security. It seems to have worked. There's going to be a lot of decompressing now and a great deal in the next couple of weeks, going department by department talking about what worked and what didn't work and how to improve that. And hopefully we can just fine tune it and make this the best convention that it can possibly be.