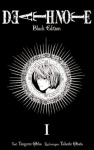 Viz Media will release the Death Note manga in six new double-sized editions called Death Note Black, beginning in February 2011. The package will be two of the old volumes in one of the new editions, which will be slightly oversized trade paperbacks with black trim.
The property remains a powerhouse, despite the fact that the last volume was published over two years ago, with the manga volumes continuing to sell well. A Death Note live action Blu-ray release is planned for August.
"This is a way to bring back the property and also introduce it to new fans," Viz Retail Development Manager Leslie Davisson said.