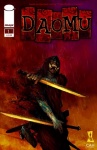 Image will launch Daomu, a comic series based on a bestselling series of novels from China, in December. The novel series has sold over 20 million copies in China, and the first graphic novels based on it, launched in China this year, have become bestsellers there as well. Two graphic novels have been released in China to date. Image will release the material in comic form before collecting it into graphic novel format.
The adaptation to comics, using digital art, was done by Concept Art House, a San Francisco-based company "with a focus on transmedia storytelling." The company owns the exclusive worldwide rights to Daomu, which it plans to expand into games, an animated series, and a feature film. Concept Art House is an art service provider and IP developer working in digital entertainment formats with such companies as Activision, Blizzard, Disney, EA, Hasbro, SOE, Zynga, and others.
The storyline follows tomb raiders (the translation of Daomu) who go deep underground to search for the answers to a murder.