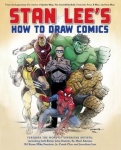 Watson-Guptill has announced the November release of Stan Lee's How to Draw Comics ($24.99) which is intended to be the co-creator of the Marvel Universe's ultimate guide to comic book creation.
It starts with a recounting of Lee's eighty plus year career working for the publisher which eventually became Marvel Comics where he learned every aspect of the business. While Lee is best known for his signature superheroes, over the course of that long career he has worked on a wide range of comic book genres, everything from romance to humor to horror, with manga having recently been added to the list.
Lee brings this wealth of experience to Stan Lee's How To Draw Comics, a compendium of everything Lee knows about the business of creating comics. In it every part of the process is covered, from artwork to inking to lettering, as well as character creation and costume design, plus there's a chapter on how to create comics on the computer.