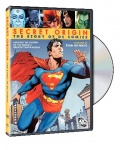 Warner Bros. Pictures has announced a November 9th release date for Secret Origin: The Story of DC Comics, a documentary written and directed by Mac Carter and narrated by Ryan Reynolds that explores 75 years of DC Comics history.
Having been granted access to both the Warner Bros. and DC Comics archives, it features excerpts from DC Comics, films and television programs as well as interviews with comic book creators Neal Adams, Karen Berger, Mike Carlin, Dan Didio, Neil Gaiman, Geoff Johns, Jim Lee, Paul Levitz, Dwayne McDuffie, Grant Morrison, Dennis O'Neil, Paul Pope, Louise Simonson, Mark Waid, Len Wein and Marv Wolfman.
"From the bans to the breakthroughs, from humble pulp beginnings to the literary rise of the graphic novel, the story of DC Comics holds a mirror to an ever-evolving enterprise and the society reflected in it's comic book pages," said Diane Nelson, President, DC Entertainment. "It's a true American story --Secret Origin: The Story of DC Comics is a riveting, exciting, surprising revelation of that fascinating history and the men and women who forged it."
The DVD will be distributed by Warner Home Video and have a SRP of $24.98 and will also be available On Demand and for Download.