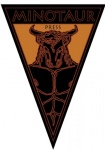 Top Cow Productions is reviving its Minotaur Press imprint for independently-styled series with the publication of two new titles later this year. Echoes written by Joshua Hale Fialkov with art by Rahsan Ekedel and Last Mortal by Filip Sablik and John Mahoney with art by Thomas Nachlik are debuting in the Top Cow First Look trade paperback in October. Both titles will then by released as single issues under the Minotaur imprint in late 2010 and early 2011.
The Minotaur Press titles will be published with black, white, and grayscale interiors. The books will focus on tales of suspense, horror, and mystery as Top Cow seeks to broaden its brand with an imprint of books featuring stories that are self-contained and cerebral. Previously Top Cow had released such series as Obergeist by Tony Harris and Dan Jolley, and Felon by Greg Rucka and Matthew Clark under the Minotaur Press label.
The revival of Minotaur press will provide Top Cow with three distinct imprints. Top Cow Universe titles include Witchblade, The Darkness and Artifacts, while the Top Cow Productions line will feature such stand alone color series as Mysterious Ways, Sunset, and Rest, and the Minotaur Press imprint will be a home for darker, more nuanced stories.
Echoes is the saga of a man who discovers that his deceased father was a serial killer. When bodies keep turning up, he begins to suspect that he may have inherited his father's tendencies.
Last Mortal is about a small time crook who discovers he is immortal when he attempts suicide, and then realizes that without a reason to live, immortality is a curse.