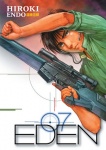 With publishers cutting back on the number of manga volumes they publish a number of great series have gone on hiatus. Perhaps it's a sign that the market is stabilizing somewhat that Dark Horse has decided to resume publication of two excellent seinen series, Eden: It's an Endless World by Hiroki Endo and MPD Psycho by Eiji Otsuka and Shou Tajima. The news of the revival of the two series comes via John Thomas' Mecha Mecha Media blog.
According to Thomas Dark Horse will continue to publish volumes of both series as long as fans support them. Dark Horse has published 12 of the 18 volumes of the Eden manga with the most recent released a year ago in September of 2009. Dark Horse has published 9 of the 14 volumes of MPD Psycho with the most recent release coming in May of 2009.
Dark Horse has also begun publishing new volumes of another seinen series, Hiroya Oku's Gantz on a monthly basis starting with Gantz Vol.12 this month with Gantz Vol.13 slated for October. It will still take Dark Horse awhile to catch up with Japan where Oku's ongoing series has reached 28 volumes.