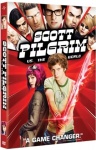 Edgar Wright's Scott Pilgrim vs. the World is coming to Blu-ray, DVD, & digital download on November 9th. With its inventive visuals, endearing performances, and genre-smashing style Scott Pilgrim vs. the World, which is still in theaters, has earned over $42 million. While it is yet to make back its $65 million cost, the film has pushed sales of Bryan Lee O'Malley's six Scott Pilgrim graphic novels to the top of the BookScan list of graphic novels sold in bookstores for the past six weeks (see "Scott Pilgrim Dominates August"), and the November release of the film on video, where the it actually has a chance to reach an even larger audience, should keep sales of the Scott Pilgrim volumes selling throughout the fourth quarter.
The 2-disc Blu-ray Combo Pack includes a Blu-ray disc, a conventional DVD, and a digital copy of the movie that can be viewed on a variety of electronic devices. Blu-ray consumers will also be able to stream a free bonus movie instantly to any internet-connected player, Smartphone, or iPad using the free pocket Blu app. With Scott Pilgrim vs. the World iPad owners can enjoy a new enhanced edition of pocket Blu made especially to take advantage of the tablet's larger screen and high resolution display. With this app, Blu-ray consumers will be able to stream their full-length bonus movie in a way that is bigger and better looking than ever before.
Both the Blu-ray and the DVD come loaded with deleted scenes, laugh-out-loud bloopers, and cast commentaries. The Blu-ray also has loads of exclusive features, which make it the clear choice for collectors. The BD includes three insider documentaries, plus alternative edits for the film, a detailed examination of the movie's pre-production process, four complete music videos, a special feature on the film's special effects, plus the special Adult Swim promo cartoon, Scott Pilgrim vs. the Animation (see "Scott Pilgrim vs. the Animation").