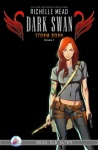 An ICv2 Exclusive.
Sea Lion Books has inked an agreement with bestselling author Richelle Mead to create comic books and graphic novel collections adapting Mead's Dark Swan series of novels starting with Storm Born, the first novel in the series. An eight-issue comic book adaptation of Storm Born will debut in the winter of 2011.
Storm Born follows the adventures of Eugenie Markham, a free-lance shaman who battles ghosts and fey that sneaks into our world from the Otherworld. When an alarming prophecy suddenly makes her every Otherworldly creature's object of desire, Eugenie must dodge their advances while also fighting a dark power rising within her.
In addition to the Dark Swan series, Richelle Mead is the author of another adult fantasy series, the Georgina Kincaid novels, as well as the New York Times and USA Today certified bestselling YA series Vampire Academy, which has won honors from the American Library Association and been translated into 30 languages.
Mead has had considerable input into the creation of the comic book/graphic novel adaptation of Storm Born and is excited at what she has seen so far: "Seeing your books come to life like this is one of the most amazing things that an author can experience. I'm a huge fan of graphic novels, and Sea Lion has done an incredible job in creating the characters and scenes of the Dark Swan world. The art is stunning and beautifully captures my vision. Eugenie fans are going to love this, and new readers will too."