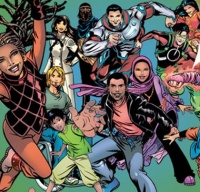 Some of the same folks that brought about the 9/11 Mosque controversy are sharpening their Islamophobic axes to attack The 99, a comic book-based cartoon from Teshkeel Media that features 99 heroes, who embody the 99 attributes of Allah (see "The 99 Gets a Cartoon Series"). Though The Hub announced as early as last May that The 99 cartoon was supposed to air on the new kid-centric network formed by Hasbro and the Discovery Channel (see "The Hub's First Year"), there was no widespread controversy until Andrea Peyser, alerted by a piece on the right wing Family Security Matters Website, attacked the series sight unseen in yesterday's New York Post.
Now according to The Street.com the debut of The 99 on The Hub, which has been pushed back to January, may be in doubt. Evidently it doesn't take much to spook cable TV execs, who have rarely been considered candidates for a sequel to Profiles In Courage anyway. Although she provided not the slightest hint that she has actually seen the series, Peyser blasted it from the get-go in her piece entitled "Trading Cape for the Burqa," beginning her rant with a full front assault, "Hide your face and grab the kids. Coming soon to a TV in your child's bedroom is a posse of righteous, Sharia-compliant Muslim superheroes -- including one who fights crime hidden head-to-toe by a burqa. These Islamic butt-kickers are ready to bring truth, justice and indoctrination to impressionable Western minds."
It is interesting to contrast Peyser's reaction to the series she has evidently never seen with the words of its creator, Naif Al-Mutawa, a psychologist who explains the genesis of The 99 by talking about the day he walked out of a mosque disgusted by the message of hate delivered by the Imam. As he explained to CNN: "It is finally time that all of us became more accountable for that which our children will be hearing; tiny differences setting us apart rather than celebrating those positive things that bind all good people together. If we allow small-minded men to spout fear and hate in the name of our religion, we will enable them to brainwash another generation as they did our own. And soon, the next generation will fall into a pit of dissonance. To sit by silently makes us all complicit." Mutawa, who has been praised by President Obama, created The 99 to deliver a message of tolerance as well as to instill virtues.
It should be noted that not all conservative Websites are on board the campaign against The 99. Jonathan M. Seidl presents a balanced look at the situation on the Mayrant & Rave blog.