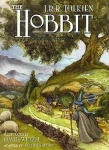 Although it's still unclear where the movies will shoot (see "Hobbit Leaving New Zealand?"), casting has been announced for major roles in The Hobbit films. Martin Freeman has been confirmed as Bilbo (although word has been out for some time on his role, see "Martin Freeman May Play Bilbo").
Other cast members, per Deadline, include Richard Armitage as Thorin Oakenshield, Aidan Turner and Rob Kazinsky as Kili and Fili, Graham McTavish as Dwalin, John Callen as Oin, Stephen Hunter as Bombur, Mark Hadlow as Dori, and Peter Hambleton as Gloin.
The two Hobbit films will be released in December 2012 and 2013.