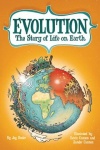 Evolution: The Story of Life on Earth HC
Publisher: Hill & Wang
Release Date: January 2011
Price: $18.95
Creator(s): Written by Jay Hosler; Illustrated by Kevin Cannon and Zander Cannon.
Format: 160 pgs.; B&W; Hardcover
ISBN: 978-0-8090-9476-9
Age Rating: Teen
ICv2 Rating: 3.5 Stars out of 5
Bloort 183, alien scientist, continues his search for a way for his species to resist the disease which is threatening them in this sequel to
The Stuff of Life: A Graphic Guide to Genetics and DNA
(also illustrated by the unrelated Cannon's, but written by Mark Schultz). This time Bloort 183 is looking at the development of life on Earth. Along the way he teaches his king and his prince—as well as readers—the science behind evolution, as well as the history of the study of evolution.
Readers do not have to have read the previous book as science graphic novelist Hosler revisits any necessary genetics material in a clear, easy-to-understand manner. The black-and-white, strongly lined, cartoony art is a nice accompaniment, fun and understandable, but not neglecting realistic depictions when needed to make a point. Puns add light humor to the story and the aliens, while not explained quite enough for new readers, give the tale the right feel of scientific observation. This is higher level science, so it will be best understood by high school audiences and up, though there is nothing inappropriate for interested middle school students. Includes a glossary and suggestions for further reading.
--
Snow Wildsmith: Writer and former teen librarian and ALA/YALSA committee member.