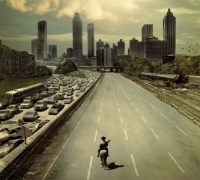 A total of 8.1 million people have already seen the premiere 90-minute episode of The Walking Dead, 5.3 million on its initial airing on Sunday night and another 2.8 million on subsequent airings, according to Variety. The ratings set a new record for any original AMC series, beating the network's hits Mad Men and Breaking Bad.
"People who are familiar with the comic books know what's coming, but suffice it to say, this is only the beginning of a long, intense, and powerful ride," AMC SVP of original programming, production, and digital content was quoted as saying by Hollywood Reporter. "Long live The Walking Dead."
The new series, based on the comics written by Robert Kirkman, got a good send-off at Comic-Con (with a big Hall H presentation and an exhibit featuring sets from the first episode, see "Comic-Con Photos—Sunday"), via on-air spots on AMC during Mad Men, which also runs on Sunday nights (its fourth season is done), and from a big public relations campaign that involved zombies shambling through world capitals (see "Zombies Invade World Capitals").