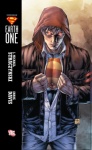 Diamond Comic Distributors reported that over-all comics and graphic novel sales to comic stores were up 2.77% in October vs. October 2009, behind a 13.04% increase in graphic novel sales. Comic periodical sales in the channel declined 1.7% vs. the year ago period.
Superman: Earth One HC (#1) and The Walking Dead volumes (five of the top ten graphic novels) were the most visible strong sellers pulling up the the graphic novel category in October.
Year to date comics and graphic novel sales are down 4.74% vs. 2009.
We cannot report whether these numbers include only the top 300 comics and graphic novels or all titles, nor whether this includes only North American sales or worldwide. But we do know that the year to date number is fairly consistent with the 5% year-to-date decline in comics and graphic novel sales to North American comic stores we reported last month (see "It's Official: Q3 Comic Sales Sucked") for data based on the Top 300 lists through September.
As we mentioned in that article, it will be interesting to see how comic store sales hold up in the all-important holiday season; the October sales appear to be better than Q3's, so that's a good start.