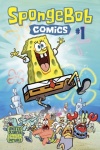 United Plankton Pictures, Inc., in association with Bongo Entertainment, Inc., will release the first bimonthly issue of SpongeBob Comics in February. Although SpongeBob has previously appeared in comics in the pages of Nickelodeon Magazine, and Tokyopop published a highly successful CineManga (see "Scholastic Sells Half a Million SpongeBob CineManga"), this will mark the cartoon character's first comic book appearance.
United Plankton is the company formed by SpongeBob SquarePants creator Stephen Hillenburg to produce the Nickelodeon TV show. Now it will publish a line of comic books for which Bongo (publishers of the Simpsons and Futurama comics) will perform administrative and distribution services. Joining United Plankton as Managing Editor will be Chris Duffy, former Senior Editor of Nickelodeon Magazine.
Debuting in 1999, Nickelodeon's SpongeBob SquarePants is one of the most popular cartoon series in children's television history and is the only cartoon to regularly make the Nielson Ratings Top 10 list. Now in its seventh season it is syndicated in 171 markets in 25 languages and currently airs in Europe, Asia, Australia and Latin America.
SpongeBob Comics #1 will have work by James Kochalka (Johnny Boo), Hilary Barta (Fear Agent), Graham Annable (Grickle), Gregg Schigiel (X-Babies) and Jacob Chabot (Mighty Skullboy Army). It will feature 32 pages of all-ages material, will retail for $2.99 and arrives in stores February 9th.