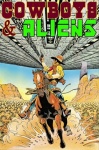 The upcoming release of the big budget Cowboys & Aliens feature (see "Harrison Ford in Cowboys & Aliens") is firing up a dispute over who should actually get credit for the script, widely reported to be based on a Platinum Studios graphic novel, according to Hollywood Reporter.
It turns out that the movie has actually been in development since 1997, with over eight teams of writers working on it over time. The Platinum graphic novel ("created by Scott Rosenberg") dates to 2006, and was based on the movie concept, according to the report.
So the current writers for the Jon Favreau-directed feature, Damon Lindelof, Roberto Orci, and Alex Kurtzman, who based their script on the comic, have some competition for writing credits from writers who worked on the concept before the comic came out. Such disputes end up in guild arbitration, which in this case will determine whether the film will actually lend up being "based on the graphic novel," or on earlier iterations of the script.