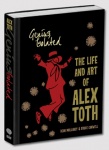 The Library of American Comics and IDW will release Genius, Isolated: The Life and Art of Alex Toth, the first volume in a planned three-volume opus on the life and work of Alex Toth, next year. The three volumes will cover Toth's groundbreaking and influential career in comics and animation in the depth and detail that it deserves.
Written by Dean Mullaney and Bruce Canwell, this definitive biography is being created with the full cooperation of Toth's children and complete access to the family archives. Mullaney and Canwell have conducted dozens of interviews with Toth's peers, friends, and family members. In addition, Toth's fans and friends have loaned original artwork reproduced in the series.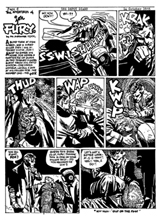 Genius Isolated
will cover Toth's life and work through the early 1960s, a period that includes his early comics work and his move into animated cartoons.
It will include a previously unknown, unfinished and unpublished penciled story from the early 1950s.
A special section will collect, for the first time, the
Jon Fury
pages that Toth produced while in the army.
It will feature an introduction by Mark Chiarello.
Genius, Illustrated, the second volume, will cover Toth's development into one of the leading character designers in TV animation, as well as his renewed career in comics with Warren, DC, and his creator-owned properties of the 70s and beyond, along with an examination of his final years.
Genius, Animated, the third volume, will be an art book with hundreds of Toth's model sheets and storyboards for shows such as Space Ghost and Dino Boy, Jonny Quest, Space Angel, Super Friends, The Fantastic Four, Hot Wheels, Thundarr, and Shazzan, as well as many full-color presentation pieces for selling new series to the networks.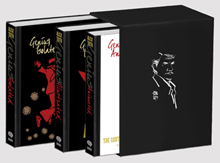 A slipcase for the full set will be available with the third book.